Deepening the Power: Community Ritual and Sacred Theatre (Rituals #2) (Paperback)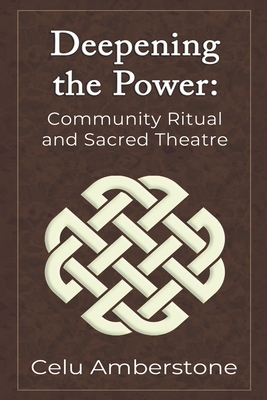 $17.24

Not On Our Shelves Now (Usually Ships in 1-5 Days)
Other Books in Series
This is book number 2 in the Rituals series.
Description
---
Ceremonies bind people together, in all cultures and traditions around the world. Ritual can create common experiences and the means for expressing them. Much of our modern ritual finds its origin in ancient pagan, or Mother Earth, practices.

In Deepening the Power: Community Ritual and Sacred Theatre, author Celu Amberstone clearly re-establishes the meaning and power of old rituals and explains their very real relevance for today's spiritual seeker. In a practical manner, Amberstone lays out a philosophy that is fundamental to the practice of ritual and explores the evolution of ritual within spiritual and cultural contexts. A detailed plan for conducting ritual celebrations and sacred theatre is presented, taking the practitioner, whether experienced or novice, through necessary steps that make for a successful and spiritually powerful experience.
"In traditional societies around the world, one of the main reasons ceremony has such a powerful impact on the participant and observer is its use of sacred theatre," writes Amberstone. "...The structure of ritual and the traditional teachings mentioned in these pages do not advocate any particular religion or belief system. The methods I employ can be adopted, with some modifications, by any group wishing to strengthen and deepen its ceremonial process, whether they are Pagan, Christian, or other."
The original release of Deepening the Power was from Beach Holme Publishing in 1995. Author Celu Amberstone and Kashallan Press are pleased to release this new edition, with new opening and closing remarks, and new insights.
Cornwoman is the name used by Celu Amberstone when she is writing or facilitating workshops on women's spirituality. Of Cherokee and Celtic ancestry, Cornwoman is an experienced ceremonialist who combines Wicca and First Nations shamanism in her work. She lives in Victoria BC.
Her background in anthropological studies adds some validity to her theories and practices. The author, a 'teacher and practicing Pagan ceremonialist' provides a detailed plan for conducting ritual celebrations and sacred theater within a community. Beginning with a loosely structured section on the meaning and power of ancient Pagan rituals, the author explains the relevance of these rituals for the present day. The second section includes detailed descriptions of the seven steps of the Pagan ceremonial rituals. The third section deals primarily with sacred theater and includes short plays for male and female rites of passage ceremonies. This work is a blend of practical instruction on Pagan ceremonies to attain greater spiritual fulfillment in our society. This book is designed, not for the scholar, but for those interested in creating ritual ceremonies of their own. Its focus on Pagan rituals also makes it a work for those interested in Pagan worship.
-Sharon Morris, Bibliography of Social Anthropological Theories of Ritual Meaning and Function