The 4 Season Solution: The Groundbreaking New Plan for Feeling Better, Living Well, and Powering Down Our Always-On Lives (Hardcover)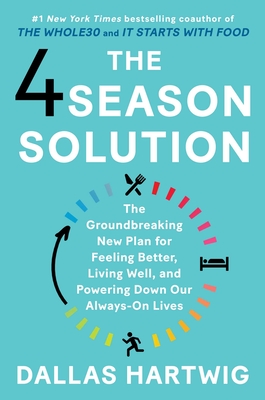 Description
---
New York Times bestselling coauthor of the runaway bestsellers The Whole30 and It Starts With Food presents a paradigm-shifting plan that shows you how to boost energy, improve health, and feel happier by living more in tune with the seasons.

With his runaway bestsellers It Starts with Food and The Whole30, health trailblazer Dallas Hartwig has helped millions of people improve their lives by changing how they eat. In this groundbreaking new book, he reveals the antidote to today's epidemics of burnout, weight gain, disease, and fatigue. Rooted in ancestral health, yet designed for our busy, modern lives, The 4 Season Solution is a blueprint for not just eating better, but living better.

Not long ago, our ancestors lived according to the changing seasons, adjusting how they slept, ate, moved, and even socialized throughout the year. But today, we are more disconnected from the natural world than ever. We wake before the sun rises and go to bed long after it sets. We eat tropical fruits in the dead of winter. We exercise in climate-controlled environments. We connect virtually instead of emotionally. Our lives are frenetic, stressful, and exhausting. In other words, we are living in a chronic summer, and it's killing us.

Packed with crucial research and clear-eyed writing, The 4 Season Solution provides a new, sustainable model for living in sync with the natural world. By making small but meaningful changes to the four keys of wellness—how you sleep, eat, move, and connect—over the course of the year, you will reclaim your health, regain your energy, and let go of excess weight. At once a bold new philosophy and an accessible plan to live well all year long, The 4 Season Solution is a new health paradigm for an increasingly unhealthy world.
About the Author
---
Dallas Hartwig is the cofounder of the Whole30 and Whole9 programs, and coauthor of the New York Times bestsellers It Starts With Food and The Whole30. A functional medicine practitioner and physical therapist, he's also the cohost of The Living Experiment podcast and the author of a popular email newsletter on healthy living. He has been featured in media such as Today, Good Morning America, The Dr. Oz Show, The View, and more. To learn more, visit DallasHartwig.com.
Praise For…
---
"With The 4 Season Solution, Dallas Hartwig is presenting a revolutionary new paradigm for better health, and a brilliant practical remedy for our current epidemics of stress, fatigue, and poor health."
— Dr. Rangan Chatterjee, bestselling author of How to Make Disease Disappear

"Quite simply, The 4 Season Solution is the answer to our stressful, unbalanced lives. It is clear-eyed, accessible, and full of solid, practical information that will help readers change their lives for the better."
— Robb Wolf, New York Times bestselling author of The Paleo Solution and Wired to Eat