Place of No Return: How I Survived China's Uyghur Camps (Hardcover)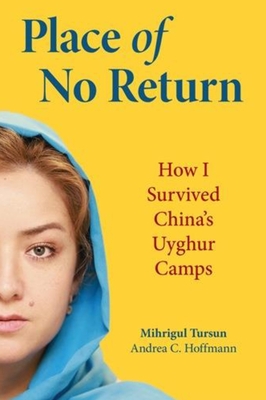 $29.95

Coming Soon - Available for Pre-Order Now
Description
---
Her crime: she is Uyghur. Mihrigul Tursun's story is a powerful testimony of bravery in the face of unimaginable crimes. Her three children were forcibly taken from her before she was taken to a so-called re-education camp. Months later, she could only take two of her children back into her care alive. During her detention, Mihrigul Tursun was physically and mentally tortured and forcibly sterilized. She witnessed inmates being raped and killed.
She was about to face her own execution when she was finally rescued. Mihrigul Tursun has experienced firsthand the measures used by the Chinese state to eradicate the cultural and religious identity of the Uyghurs. It is necessary to break people, cut off any closeness between them, find out every detail about them, frighten and terrorize them, not give them any freedom, or silence them. But even when Mihrigul Tursun is threatened, living in exile, and yet she is determined not to remain silent. It is her courageous concern to enlighten the world about the human rights violations against her people and report on the crimes behind the walls of the so-called re-education camps.

About the Author
---
Andrea C. Hoffmann is a writer and professor of investigative journalism at the HAW in Hamburg. Her books about strong women and their lives have been translated into 17 languages and published worldwide. Mihrigul Tursun has spoken publicly about the violence and torture she and other Uyghurs suffered while interned in China's vast network of "re-education" camps in the country's far-western Xinjiang region. She has been denounced by the Chinese government, which produced a short documentary in which Mihrigul's parents, police officers, and doctors all speak against her, and try to portray her testimonies as false. Mihrigul was imprisoned several times in detention camps, during which time one of her three young children died. She has lived in exile in Washington, D.C. since 2018.