Living off The Grid: A Guide on How to Live Off the Land and Become Self-Sufficient Through Homesteading (Hardcover)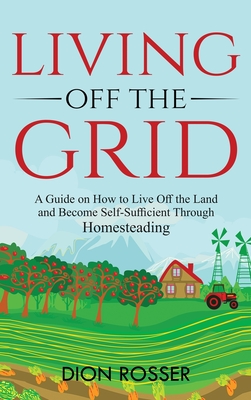 $29.99

Not On Our Shelves Now (Usually Ships in 1-5 Days)
Description
---
If you want to discover how to live off-grid without sacrificing the things you love, then keep reading...
Do you want to become a homesteader?
Have you already bought a property and tried to make a living from your off-grid lifestyle?
Whether you already have the experience, or you are looking to learn the basics to live off-grid, this book offers over 50 ways to become a successful off-grid dweller.
You'll learn how to live off-grid without sacrificing the things you love. You will feel closer to your family and to the land, where you know you are doing your part to reduce climate change and help to create a more sustainable life.
This guide you will discover:
What living off the grid means.
If you are cut out for living off-grid and out of the city.
The positive and negative elements of living off the grid.
What you need to begin your journey.
How to create the best layout for your homestead.
Why and how to choose the style of your structure that will benefit your off-grid needs.
The water and sewer choices you have, including those you might not know about.
The most reliable sources of heat and electricity for off-grid living.
Why gardening for your food supply works well, even with limited acreage.
How to raise livestock for food.
How to preserve the foods you grow.
How to make money from your homestead to help you sustain a comfortable lifestyle.
And much more
With this handy guidebook, you can finally make the inconceivable a believable way of life. With examples from real-life situations and advice compiled from experts and beginners, your journey into off-grid living is only a quick read away.
Get this book now to learn how to be self-sufficient and live off the land.