A Wild Promise: An Illustrated Celebration of The Endangered Species Act (Hardcover)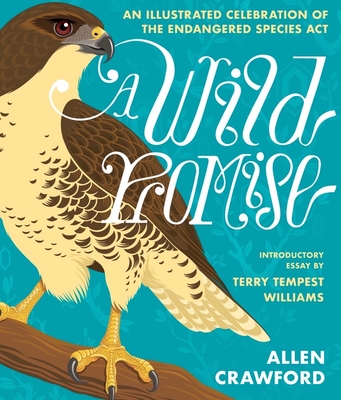 Description
---
A LITHUB BEST NONFICTION BOOK OF SUMMER
In the powerful introduction Terry Tempest Williams reminds us, "Our wild promise within the Endangered Species Act to protect and keep safe threatened and critically endangered species from extinction can become vows of action."
For the past fifty years, this promise, the Endangered Species Act, has ensured that the most threatened and vulnerable species and their habitats are protected. From the Steller sea lion to the ivory-billed woodpecker, from the steelhead trout to the red wolf, this landmark act has worked to preserve the wild beauty that surrounds and sustains us.
In
A Wild Promise
, acclaimed artist Allen Crawford beautifully illustrates over eighty animals that embody the spirit, legacy, and commitment of the Endangered Species Act. In his trademark inventive style, Crawford's full-color illustrations and illuminated text create a vibrant tapestry of our nation's habitats—oceans, mountains, deserts, wetlands, prairies, and forests—and the varied species that call these places home. With a powerful and moving introduction by award-winning writer and conservationist Terry Tempest Williams,
A Wild Promise
is critically urgent and inspirational, lending voice and spirit to all endangered species. A visually delightful, one-of-a-kind work,
A Wild Promise
is a celebration of conservation, commitment, and compassion—a clarion call to continue to embrace, engage, and act in ways that preserve and protect our living world.
About the Author
---
Allen Crawford is the illustrator of Whitman Illuminated: Song of Myself. He and his wife, Susan, are proprietors of the design/illustration studio Plankton Art Co. Their illustrations are on permanent display at the American Museum of Natural History's Milstein Hall of Ocean Life. His work has appeared in numerous publications including the New York Times, Orion, and Art in America. He lives in Mt. Holly, New Jersey.

Terry Tempest Williams is an American writer, educator, and conservationist. Her award-winning books include Refuge, When Women Were Birds, The Hour of Land, and Erosion: Essays of Undoing. She lives in Castle Valley, Utah.
Praise For…
---
Beautiful. . . . An ode to all the animals that have seen their numbers grow after gaining federal protection.
— Los Angeles Times

As A Wild Promise reveals—through artist Allen Crawford's beautiful renderings of over 80 animals, with text by the great Terry Tempest Williams—we have it in us to save the world, we just have to do it.

— LitHub, A Best Nonfiction Book of Summer

Beautifully illustrated. . . . The artistry is amazing. . . . 
— Graphic Medicine

Inventive.
— The Trentonian

The greatest enemy of life on Earth is not fossil fuel, but human hubris. In our eleventh hour, the art of Allen Crawford and the words of Terry Tempest Williams offer witness and warning. A Wild Promise celebrates the lives that have been saved by the Endangered Species Act, even as that half-century act itself is endangered. This gentle, strong book marks this moment of peril and promise. We can ignore, and thereby accept, the dark tsunami of extinction moving through sea and air and across the land faster than any previous wave. Or we can find the power of our humility and our wider kinship. We can reconnect our children and ourselves to the rest of nature. We can reverse the deepening loneliness of our species. We can turn the tide.

— Richard Louv, author of Our Wild Calling and Last Child in the Woods