Waterlog: A Swimmers Journey Through Britain (Hardcover)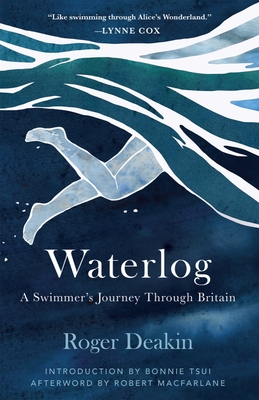 $27.95
Coming Soon - Available for Pre-Order Now
Description
---
"Roger Deakin is a latter-day Thoreau." —Robert Macfarlane, author of Underland
"A swimming journey would give me access to that part of our world which, like darkness, mist, woods or high mountains, still retains most mystery. It would afford me a different perspective on the rest of land-locked humanity." —Roger Deakin, from Waterlog
Considered a masterpiece of nature writing and the book that launched the international swimming movement, Roger Deakin's Waterlog is a fascinating and inspiring journey into the actuation world that surrounds us.
In an attempt to discover his island nation from a new perspective, Roger Deakin embarks from his home in Suffolk to swim Britain—the seas, rivers, lakes, ponds, pools, streams, lochs, moats, and quarries. Through the watery capillary network that braids itself throughout the country, Deakin immerses himself in the natural habitats of fish, amphibians, mammals, and birds. And as he navigates towns, private property, and sometimes dangerous waters and inclement weather, Deakin finds himself in precarious situations: he's detained by bailiffs in Winchester, intercepted by the coast guard at the mouth of a river, and mistaken for a dead body on a beach. The result of this surprising journey is a deep dive into modern Britain: its people, culture, its laws and customs, its communities, and especially its wild places.
About the Author
---
Roger Stuart Deakin was an English writer, documentary-maker and celebrated environmentalist. He was a co-founder and trustee of Common Ground, the arts, culture and environment organization. Waterlog, the only book he published in his lifetime, became a UK bestseller, and founded the wild swimming movement. He lived in Suffolk, England and died there in 2006, at age 63.

Bonnie Tsui is a journalist and the author of Why We Swim, a New York Times Book Review Editors' Choice, a TIME Magazine Must-Read Book of 2020, an NPR Best Book of 2020, and a Los Angeles Times and Boston Globe bestseller. It is currently being translated into six languages. Her first children's book, Sarah and the Big Wave, about the first woman to surf Mavericks, will be published in May 2021. She lives, swims, and surfs in the Bay Area.

Robert Macfarlane's prize-winning and best-selling books include Mountains of the Mind, The Old Ways, Landmarks, and, with Jackie Morris, The Lost Words. He lives in Cambridge, England, where he is a Fellow of the University of Cambridge.

Praise For…
---
Roger Deakin is a latter-day Thoreau.
— Robert Macfarlane, author of Underland

Waterlog is an adventure, a meditation, a celebration of wild swimming—a delight. In this book, Roger Deakin has captured the magic of the liquid world.

— Susan Casey

I loved this book! Reading it was like swimming through Alice's Wonderland, but so much better.
— Lynne Cox, author of Swimming to Antarctica

The foundational text for the international 'wild swimming' movement. . . . A beautifully written, loving tribute to the wonders found swimming in the wild outdoors.
— Kirkus, Starred Review