All Gall Is Divided: The Aphorisms of a Legendary Iconoclast (Paperback)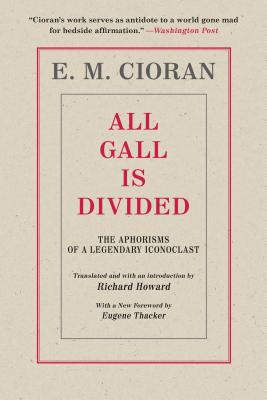 List Price: $17.99
Our Price: $15.99
(Save: $2.00 11%)
Description
---
"An antidote to a world gone mad for bedside affirmation"—Washington Post.

E. M. Cioran has been called the last worthy disciple of Nietzsche and "a sort of final philosopher of the Western world" who "combines the compassion of poetry and the audacity of cosmic clowning" (Washington Post).

All Gall Is Divided is the second book Cioran published in French after moving from his native Romania and establishing himself in Paris. It revealed him as an aphorist in a long tradition descending from the ancient Greeks through La Rochefoucault but with a gift for lacerating, subversively off-kilter insights, a twentieth-century nose for the absurdities of the human condition, and what Baudelaire called "spleen."

The aphorisms collected here address themes from the atrophy of utterance and the condition of the West to the abyss, solitude, time, religion, music, the vitality of love, history, and the void. The award-winning poet and translator Richard Howard has characterized them as "manic humor, howls of pain, and a vestige of tears," but, as he notes too, in these expressions of the philosopher's existential estrangement, there glows "a certain sweetness for all of what Cioran calls 'amertume.'"
About the Author
---
E. M. Cioran was the son of an Orthodox priest. In the late 1930s, he left his native Romania for Paris, where he lived and wrote until his death in 1995. His many books include A Short History of Decay, Drawn and Quartered, The Temptation to Exist, The Trouble with Being Born, History and Utopia, and Anathemas and Admirations, all in translations by Richard Howard and published by Arcade.

Richard Howard is the Pulitzer Prize–winning poet, award-winning translator, essayist, teacher, and literary critic. He won the PEN Translation Prize for his translation of A Short History of Decay. He lives in New York City.

Eugene Thacker is the author of several books, including Infinite Resignation and In The Dust of This Planet. He teaches at the New School in New York City.
 
Praise For…
---
"Pitched at the knotty hearts of bruisers like being, suffering, self-knowledge, and despair, [the aphorisms in All Gall Is Divided] are themselves somewhat effervescent . . . with a slippery comedy that in true double-take fashion actually heightens the seriousness."—The New York Times Book Review

"More dark words from our century's great connoisseur of atrophy, unreason, and despair. . . . An exceptional vision of the world, exceptionally well translated."—Kirkus Reviews, starred review

"Cioran's work serves as antidote to a world gone mad for bedside affirmation."—Washington Post

"The special value of Cioran is that . . . he doubts even doubt itself. No age should be without such a man."—Time

"Instead of accumulating wisdom, he has shed certainties. Instead of reaching out to touch someone, he has fastidiously cultivated his exemplary solitude. If he is an aphorist, he's one who resembles Nietzsche, not Kahlil Gibran."—Edmund White, The New York Times Book Review

"Cioran has a delicate, and, above all, gallant intelligence. . . . [He] is our best, perhaps our only, guide to the void. His incomparable work [is] the last great expression of the European mind."—David Rieff, Elle

"Like Dracula, another gentleman aphorist who couldn't sleep nights, Cioran came from Transylvania. . . . He was the last literary figure in the line that descends from Baudelaire, the last to walk the streets of Paris with the yearning and some of the purity of purpose of an ornery hermitic saint."—Adam Gopnick, The New Yorker

"Reading Cioran is pure pleasure."—Thom Jones, author of The Pugilist at Rest

"A keen stylist and rigorous thinker. [Cioran is] concerned with the most fundamental issues of being."—Los Angeles Times

"A sort of final philosopher of the Western world . . . [Cioran's] statements have the compassion of poetry and the audacity of cosmic clowning."—Washington Post

"All of Cioran's writings aspire to silence or the closest equivalent, which is the aphorism."—Thomas McGonigle, Washington Post Book World