Designer Dogs: An Exposé: Inside the Criminal Underworld of Crossbreeding (Hardcover)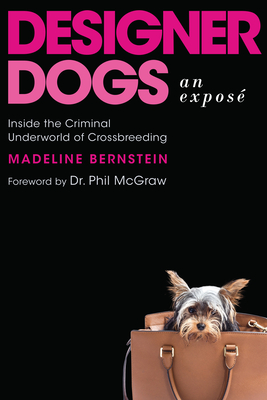 $24.99

Not On Our Shelves Now (Usually Ships in 1-5 Days)
Description
---
Strong, international interest in care and welfare of dogs, as evidenced by author's appearance on Dr. Phil, feature in the New York Post, coverage in the The Sunday Times, and more.
Author is a leading expert on the subject.
Book is a behind-the-scenes, whistle-blowing look into the industrial manufacturing of the dogs we cherish.
Appeals to readers of Peter Singer's Animal Liberation.
Greater than half of book's profits to benefit spcaLA.
About the Author
---
Madeline Bernstein is president of the Society for the Prevention of Cruelty to Animals Los Angeles (spcaLA), president of the State Humane Association of California, an advisory committee member of the Association of Prosecuting Attorneys Animal Cruelty Division, and a member of the California State Fish and Wildlife Advisory Committee. She has written numerous pieces on animal welfare, and her blog on the subject won the CBS People's Choice Award 2011. In 2012, Bernstein was the first Distinguished Visiting Animal Advocate for the Center for Animal Law Studies at Lewis & Clark Law School, in Portland, where she has returned as a visiting professor. She was also the recipient of the prestigious Boeing Crystal Vision Award, among others. She travels nationwide as an expert speaker and is regularly featured on TV and radio, and in print media. Her TV appearances include multiple news shows and three appearances on Dr. Phil, among other daytime TV shows. Bernstein lives in Los Angeles, CA. Dr. Phil McGraw, perhaps the most well-known mental health professional in the world, is the host of the #1 daytime talk show Dr. Phil. Now in its 14th season, this trailblazing and award-winning show continues to provide the most comprehensive forum on mental health issues in the history of television. Dr. McGraw is also the author of nine #1 New York Times best sellers, published in 39 languages with over 33 million copies in print. Dr. McGraw lives in Los Angeles with his wife, Robin, and their rescue dog, Maggie.