Possum Living: How to Live Well without a Job and With (Almost) No Money (Paperback)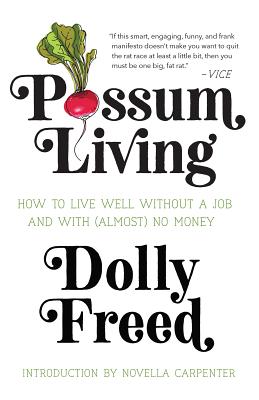 Description
---
"A back-to-the-land classic" (Garden & Gun) that will "inspire you to embrace a simpler life" (O, The Oprah Magazine).
In the late seventies, at the age of eighteen and with a seventh-grade education, Dolly Freed wrote Possum Living about the five years she and her father lived off the land on a half-acre lot outside of Philadelphia. At the time of its publication in 1978, Possum Living became an instant classic, known for its plucky narration and no-nonsense practical advice on how to quit the rat race and live frugally. In her delightful, straightforward, and irreverent style, Freed guides readers on how to buy and maintain a home, raise and grow their own food, cope with the law, stay healthy, save money, and more, all in the name of self-reliant, independent living. 
Forty years later, Possum Living remains an essential guide to going off the grid. This updated edition includes an introduction by Novella Carpenter, and new wisdom from Freed on aging, used cars, emergency funds, and how to get back in touch with yourself. Possum Living, says Freed, is about how to cook; to go fishing; to be with family, friends, and neighbors; to forage for wild berries; to enjoy a hobby; to relax; or, even better, to do nothing at all. Some of the best living, she reminds us, happens in possum time.
About the Author
---
Following her success as an author, Dolly Freed grew up to be a NASA aerospace engineer. She put herself through college after she aced the SATs with an education she received from the public library. She has also been an environmental educator, business owner, and college professor. She lives in Texas with her husband and two children.

Novella Carpenter, author of Farm City and Going Feral,  is an urban farmer and writer based in Oakland, CA. She studied at UC Berkeley's Graduate School of Journalism, where she worked closely with Michael Pollan and Cynthia Gorney. Her farm, GhostTown, started in 2003, and these days hosts a flock of chickens, honey bees, vegetable beds, and 30 fruit trees. Carpenter teaches writing and urban agriculture at the University of San Francisco.
Praise For…
---
Dolly
Freed is my hero….[If] this smart, engaging, funny, and frank manifesto…doesn't
make you want to quit the rat race at least a little bit, then you must be one
big, fat rat.
— Vice

Compulsively
readable… One message comes out loud and clear. As the 18-year-old sage Dolly
Freed wrote: 'I refuse to spend the first 60 years of my life worrying about
the last 20.'
— New York Times Arts Beat

Compulsively
readable… One message comes out loud and clear. As the 18-year-old sage Dolly
Freed wrote: 'I refuse to spend the first 60 years of my life worrying about
the last 20.'
— New York Times Arts Beat

Dolly is a sharp writer, an autodidact and an 18-year-old of unusual competence and grit…There's nothing precious about Possum Living: it's genuine in a way few books are.

— Jezebel

…this
book will not only make you laugh but might actually inspire you to embrace a
simpler life.
— O, The Oprah Magazine

Possum Living, a manifesto for living cheaply…is a relevant and sassy manual for the non-consumer lifestyle.

— Flavorwire

An
elegant memoir.
— Philadelphia City Paper

   A paean to self-sufficiency.
— Columbia Journal Review