Ninety-Nine Stories of God (Hardcover)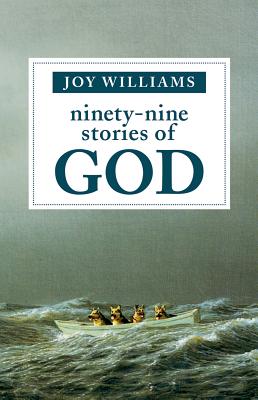 Staff Reviews
---
Joy Williams is an American treasure and Ninety-Nine Stories of God, a collection of sharp-eyed, occasionally heartbreaking, and often mordantly funny short fictions has become for me an instant desert island book. Williams is no stranger to the darker, inexplicable currents of life, which gives this book a weight far beyond its slimness. — From Stephen's favorites
Description
---
A New York Times Notable Book and a Best Book of the Year at Esquire, Seattle Times, Minnesota Star Tribune, Huffington Post, and Publishers Weekly.



From "quite possibly America's best living writer of short stories" (NPR), Ninety-Nine Stories of God finds Joy Williams reeling between the sublime and the surreal, knocking down the barriers between the workaday and the divine.
Pulitzer Prize and National Book Award finalist Joy Williams
has a one-of-a-kind gift for capturing both the absurdity and the darkness of everyday life. In
Ninety-Nine Stories of God
, she takes on one of mankind's most confounding preoccupations: the Supreme Being.
This series of short, fictional vignettes explores our day-to-day interactions with an ever-elusive and arbitrary God. It's the
Book of Common Prayer
as seen through a looking glass—a powerfully vivid collection of seemingly random life moments. The figures that haunt these stories range from Kafka (talking to a fish) to the Aztecs, Tolstoy to Abraham and Sarah, O. J. Simpson to a pack of wolves. Most of Williams's characters, however, are like the rest of us: anonymous strivers and bumblers who brush up against God in the least expected places or go searching for Him when He's standing right there. The Lord shows up at a hot-dog-eating contest, a demolition derby, a formal gala, and a drugstore, where he's in line to get a shingles vaccination. At turns comic and yearning, lyric and aphoristic, Ninety-Nine Stories of God serves as a pure distillation of one of our great artists.
About the Author
---
Joy Williams is the author of four novels, four previous story collections, and the book of essays Ill Nature. She's been nominated for the National Book Award, The Pulitzer Prize, and the National Book Critics Circle Award. Her most recent title is The Visiting Privilege: New & Collected Stories. She lives in Tucson, Arizona, and Laramie, Wyoming.
Praise For…
---
Wry and playful, except for when densely allusive and willfully obtuse, Ninety-Nine Stories of God is a treasure trove of bafflements and tiny masterpieces.

— The New York Times Book Review

[The stories in Ninety-Nine Stories of God] miniaturize the qualities found in Joy Williams's celebrated short stories: concision, jumped connections, singular details, brutal humor. I say "celebrated" because Williams has been writing stories for forty years, and for forty years her literary peers—from Ann Beattie to Raymond Carver, from James Salter to Don DeLillo—have regarded her work with a kind of Masonic fellow-feeling. Yet she remains, in some ways, a difficult, and certainly an original, writer. She writes at a slight angle to the culture, literary and otherwise. Her fiction is easy to follow and hard to fathom; easy to enjoy and harder to absorb.

— James Wood - The New Yorker

[Q]uietly splendid. . . . I believe in art, and Ninety-Nine Stories of God feels like prayer to me.

— Boston Globe

Not many writers can launch a premise like "The Lord was in line at the pharmacy counter waiting to get His shingles shot" without falling into gimmickry, but Williams—long known as a master story writer—twists the scenario to an eerily moving effect. In manipulating our most deeply rooted expectations, shooting them through a prism of irony and wonder, she has created a cockeyed book of common prayer.

— San Francisco Chronicle

Baffling and illuminating, witty and disturbing, these 99 religious-flavored vignettes may not tell you why we are here or where we are going, but they do possess the power to entrance. The divine Joy Williams continues to work in mysterious ways.

— The Minnesota Star Tribune, Best Fiction of the Year

Sly and wonderful. . . . [Williams is] after some big truths in a few words, stories so short that some of them could fit on Twitter, except they're too smart and not mean enough. 

— The Seattle Times

A collection of fiction for our fractured times from a modern master — funny, profound and redemptive.

— The Seattle Times, Best Books of 2016

Williams says more in a page-long scene than most can say in a chapter; it's fitting, then, that her very short collection manages to encompass such an eternal theme with wit and grace.

— Huffington Post

[Williams] is ... a master of momentum; the stories in Ninety-Nine Stories of God end and snap, end and snap, their wit yanking you up and dressing you down right when you get a rhythm going.

— The Week

Read together, Joy Williams' stories are a humanist manifesto, a celebration of our most mysterious values, desires and prejudices.

— Huffington Post, Best Fiction of 2016

Read together, Joy Williams' stories are a humanist manifesto, a celebration of our most mysterious values, desires and prejudices.

— Huffington Post, Best Fiction of 2016

Williams addicts will mainline [Ninety-Nine Stories of God]; newcomers should chase the high with last year's The Visiting Privilege.

— New York Magazine

While Marilynn Robinson (stately, assured) is so often held up as the major Christian believer in American letters, I would argue that, along with Annie Dillard, Joy Williams is the true seeker. Her stories are probes sent out into the universe.

— Oxford American

Masterly . . . Ms. Williams is her usual funny, irreverent self.
— The New York Times

Joy Williams is one of America's greatest living writers.

— VICE

"Joy Williams is our contemporary O'Connor with a mix of Protestant sacraments . . . and a Zen Koan consciousness."

— The Los Angeles Review of Books

Every Joy Williams publication is a cause for celebration, and Ninety-Nine Stories of God shows Williams in her usual biting, insightful, and darkly humorous form.

— Electric Literature, Best Short Story Collections of 2016

Each story is beautifully strange and meditative in an unexpected but glorious way. . . . Inarguably inspired, Ninety-Nine Stories of God is a devotional for modern cynics and believers alike.

— Lenny Letter

Ninety-Nine Stories of God is gorgeously written, sentence-to-sentence, and arrives in vignettes that are condensed but not constrained, tight but not dry.

— The Millions

Weirdly soothing . . . The best approach is to read Ninety-Nine Stories of God all in one shot, and then dip in randomly thereafter, at your darkest and dimmest hour, finding solace.

— The Ringer

Each story in this collection shoots like a flare over the abyss of our existential dilemma, flashing the briefest light on the depths below and above.

— Eugene Weekly

Magnificent, imaginative, and moving. 

— Read It Forward

Much like the divine, Williams' prose is simple and brutal, thoughtful and haunting. A spare but startling book.

— Booklist, STARRED REVIEW

Admirers of Williams—and anyone who treasures a story well told should be one—will find much to like here.

— Kirkus, STARRED REVIEW

The most beguiling book of the summer is this little collection of 99 very short stories about God. The catch is that the brilliantly twisted Joy Williams is behind the stories, which means the Lord finds himself at a hotdog-eating contest or in line for a shingles vaccination. Mayhem, humor, and death mark this transcendent book.

— Publishers Weekly, Best Books of Summer

[T]hese stories are 100% Williams: funny, unsettling, and mysterious, to be puzzled over and enjoyed across multiple readings.
— Publishers Weekly, STARRED REVIEW

I would follow the trail of Joy Williams's words—always beautiful, compelling, and so wise—anywhere they led.
— Chuck Palahniuk, author of CHOKE and FIGHT CLUB

These modern fables and skewed vignettes make the implausible plausible. Compression, as done by Joy Williams, extends the reach of her stories.
— Amy Hempel, author of AT THE GATES OF THE ANIMAL KINGDOM

Each story, like living tissue, is a reliquary that makes something splendid of our most secret agonies and desires.
— Darcey Steinke, author of SISTER GOLDEN HAIR

These stories are as full of surprises as a Noah's Ark filled with mystical beasts, three of each.
— Edmund White, author of A BOY'S OWN STORY

Joy Williams's Ninety-Nine Stories of God reads like a blog-era bible as conceived by Borges, Barthelme, and Mark Twain. No writer alive captures the voices in the post-millennial psychic wilderness like Joy Williams.

— Jerry Stahl, author of PERMANENT MIDNIGHT

The word count of this slender, extraordinary collection belies the density and combustibility of its contents, their midnight hilarity and edgeless reach. Joy Williams is our feral philosopher.
— Karen Russell, author of VAMPIRES IN THE LEMON GROVE