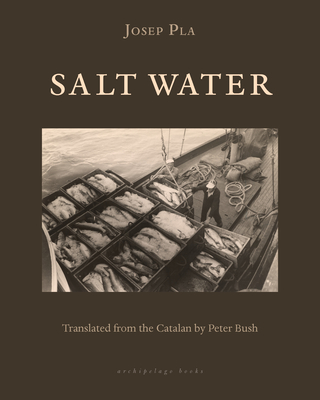 Description
---
Peter Bush, winner of the Ramon Llull Prize for Literary Translation, brings to English this most prolific and influential of Catalan writers.

Dripping with a panache that can turn in a comic instant to the most conciliatory humility, Josep Pla's foray into the land and sea most familiar to him will plunge readers head-first into its mysterious (and often tasty!) depths. Here are adventures and shipwrecks, raspy storytellers and the fishy meals that sustain them. After describing the process of beating an octopus with branches to soften up its flesh, Pla writes, "These are dishes that must be seen as a last resort." Pla inflects the mundane with the hidden rhythms of power sculpting culture, so that a hot supper is never just food--it embodies economic precarity and environmental erosion along with its own peculiar flavor. A lifetime of reporting on current events gave Pla the necessary skills to describe the world in all its gritty, funny, invigorating detail.
About the Author
---
Josep Pla (1897-1981) was born in Palafrugell on the Costa Brava. After abandoning law for journalism, Pla moved to Paris to serve as the correspondent for the Spanish newspaper La Publicidad. Pla went on to cover current events from Russia, Rome, and London, as well as Berlin, where he reported on Mussolini's march on Rome and the collapse of the German economy. He returned to Madrid in 1927. Under the Franco regime, Pla was internally exiled to Palafrugell and his articles for the weekly review Destino were frequently censored.

Peter Bush is an award-winning translator who lives in Oxford. Among his recent translations are Josep Pla's The Gray Notebook, which won the 2014 Ramon Llull Prize for Literary Translation, and Ramón del Valle-Inclán's Tyrant Banderas; Emili Teixidor's Black Bread, Jorge Carrión's Bookshops, and Prudenci Beltrana's Josafat.
Praise For…
---
"He travels with smugglers, narrates the stories of storms and shipwrecks that he hears on boats and in cafés and listens to fishermen, bar-tenders, sailors, layabouts, cooks, crooks and eccentrics. You could call most of them eccentric, author included . . . The translation reads immaculately . . . With pride, Josep Pla talks in Salt Water of his fierce coast in his and its battered language. He both observes and shares the dreams, traditions, food and culture of its people." --Michael Eaude, Catalonia Today

"Pla's stories are generally unadorned and precise in their renderings of both the people and the places of the far northeast of Spain, lives full of hardship and labor—but also their insistence on freedom. A fine introduction to a writer little known outside his native land and who memorably captures its atmosphere." --Kirkus Reviews, Starred Review

"The grand old man of Catalan letters and one of Spain's most prolific writers."--Chicago Tribune

"In each essay, the reader is swept up and carried along . . . Pla's style, ably translated here by Peter Bush, is glorious and precise." --Lamorna Ash, Times Literary Supplement

"Salt Water is a pescatarian's dream, replete with hearty, fishy repasts, generally washed down with bottomless carafes of local wine… With its quiet undercurrents of irony and fatalism, Josep Pla's way of "giving time a slower rhythm" will add savor to a summer day, whether you find yourself on a porch, in a hammock, or snug in a bunk on a humble, but honest boat." --Nicie Panetta, Frugal Chariot

"Salt Water benefits from Pla's  prolific career collecting pithy observations from sources, which helped the author generate idiosyncratic characters and iconoclastic literary insights . . . His unique prose, suffused with love, exists in a space between stoic observation and daydream." --Colton Alstatt, Zyzzyva

"Josep Pla has long been considered one of the finest writers of autobiographical texts in any of the languages of Spain."--Hispanic Review

"Considered one of the most influential Catalan authors of the twentieth century, [Pla] was born and raised in the Emporda, and over the course of his life wrote over 30,000 pages of prose in which he diligently catalogued the landscape and the life and habits of the people of the region. His complete works, published and republished over the years, contain marvelous descriptive passages that capture the landscape's history and its complex topography at once." --Words Without Borders

"Josep Pla was a great noticer of things and places; his gaze was alert and dry; he wrote in a style which registered both the smallest detail and the large picture. His relationship to Catalan identity and Spanish history was complex, often ambiguous. His relationship, however, to the scene in front of him, or the days in which he lived, remains fascinating for its clarity, its sharpness, its originality and its wit. On display in his work is a glittering and sparkling sensibility." --Colm Tóibín


"A seafood stew of the finest variety, [Salt Water] is a travel guide in the form of literature that also has that hard, gritty authenticity of seafaring experience… You could almost wipe the sand from the roads [Pla] travelled off the pages of the book." -- Cliff Sargent of "Better than Food"