Madness, Rack, and Honey: Collected Lectures (Paperback)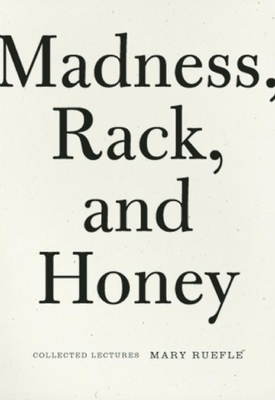 Staff Reviews
---
These "lectures" meander through subjects -- poets and the moon, the joys and sorrows of reading, fear, and irreverence, to name a few -- with a voice full of wonder, wit, and wisdom. Guaranteed to inspire any writer, dreamer, creative soul, or lover of words, Madness, Rack, and Honey is the book I always wish I were reading again for the first time. — From Molly's favorites
Description
---
This is one of the wisest books I've read in years... --
New York Times Book Review
No writer I know of comes close to even trying to articulate the weird magic of poetry as Ruefle does. She acknowledges and celebrates in the odd mystery and mysticism of the act--the fact that poetry must both guard and reveal, hint at and pull back... Also, and maybe most crucially, Ruefle's work is never once stuffy or overdone: she writes this stuff with a level of seriousness-as-play that's vital and welcome, that doesn't make writing poetry sound anything but wild, strange, life-enlargening fun. -
The Kenyon Review
Profound, unpredictable, charming, and outright funny...These informal talks have far more staying power and verve than most of their kind. Readers may come away dazzled, as well as amused... --
Publishers Weekly
This is a book not just for poets but for anyone interested in the human heart, the inner-life, the breath exhaling a completion of an idea that will make you feel changed in some way. This is a desert island book. --
Matthew Dickman
The accomplished poet is humorous and self-deprecating in this collection of illuminating essays on poetry, aesthetics and literature... --
San Francisco Examiner
Over the course of fifteen years, Mary Ruefle delivered a lecture every six months to a group of poetry graduate students. Collected here for the first time, these lectures include Poetry and the Moon, Someone Reading a Book Is a Sign of Order in the World, and Lectures I Will Never Give. Intellectually virtuosic, instructive, and experiential, Madness, Rack, and Honey resists definition, demanding instead an utter--and utterly pleasurable--immersion. Finalist for the 2012 National Book Critics Circle Award.
Mary Ruefle
has published more than a dozen books of poetry, prose, and erasures. She lives in Vermont.
About the Author
---
Mary Ruefle is the author of Madness, Rack, and Honey: Collected Lectures, a finalist for the 2012 National Book Critics Circle Award in criticism (Wave Books, 2012), and Selected Poems (Wave Books, 2010), winner of the William Carlos Williams Award. She has published ten other books of poetry, a book of prose (The Most of It, Wave Books, 2008), and a comic book, Go Home and Go to Bed!, (Pilot Books/Orange Table Comics, 2007); she is also an erasure artist, whose treatments of nineteenth century texts have been exhibited in museums and galleries, and include the publication of A Little White Shadow (Wave Books, 2006). Ruefle is the recipient of numerous honors, including an Award in Literature from the American Academy of Arts and Letters, a Guggenheim fellowship, a National Endowment for the Arts fellowship, and a Whiting Award. She lives in Bennington, Vermont, and teaches in the MFA program at Vermont College.