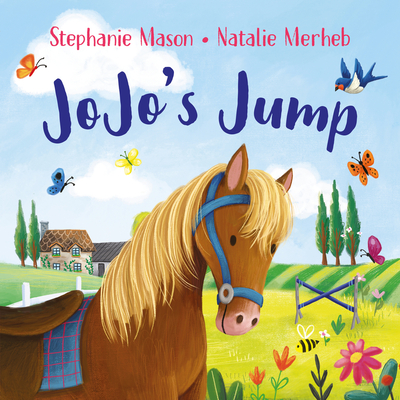 Description
---
JoJo is a young pony who is growing up quickly in the sunny countryside.

The time has now come for her to put her best hoof forward and try her first jump. With the support of her friends, she is reminded to believe in herself. Does she eventually make it over the top? A heart-warming tale about a very determined young pony learning the value of self-belief and friendship.
About the Author
---
Stephanie Mason, a first-time mum living in north-west London, gave birth to her daughter during the middle of the first UK lockdown as a result of the Covid pandemic. Inspired by her love of horses, that her father instilled in her when she began riding at the age of 5, she used this as the foundation for her very first children's story. Ensuring her daughter always has self-belief to accomplish anything she wants to do in life is hugely important to her, and this was the main motivation for her first book.

Natalie Merheb was born one snowy, wintry night in the far north of the United States. As a child, she spent most of her time coloring and painting. Following in the footsteps of many artists in her family, she studied fine art at university before spending several years working in graphic design. After the birth of her twin daughters, she began illustrating digitally and as her skill and passion for it grew, so did her dream of becoming a children's book illustrator. In 2019, she won the Kids Shelf Books Cover Design Award for the book, This I Know.