The Book of Unconformities: Speculations on Lost Time (Paperback)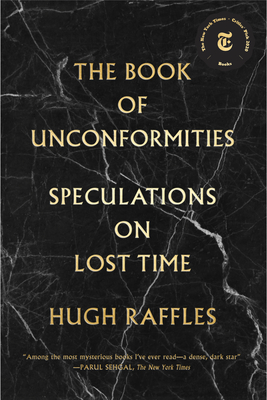 Staff Reviews
---
Here's what I wrote of the book on Lithub's 2020 year-end wrap up:
Nothing I read in this year of strange and disjointed time resonated with me as profoundly as Hugh Raffles's haunting meditation on grief and stone. The Book of Unconformities is not a straightforward study of geology or memoir of loss; it's not even a straightforward entwining of the two. Raffles, an anthropologist, fashions a set of narratives that blur boundaries and disciplines through digression and exquisitely long sentences that render the world, as in W.G. Sebald's novels, simultaneously clarified and enshrouded. I hope more people come to this book. It is a masterpiece.
About the Author
---
Hugh Raffles is the author of Insectopedia, which was a New York Times Notable Book and received the Orion Book Award and the Ludwik Fleck Prize of the Society for Social Studies of Science, and of In Amazonia: A Natural History which received the Victor Turner Prize in Ethnographic Writing. His essays have appeared in Best American Essays, Granta, Orion, and The New York Times, and he is the recipient of the Whiting Award for nonfiction. He lives in New York City and is professor of anthropology at The New School.