Organize, Fight, Win: Black Communist Women's Political Writing (Paperback)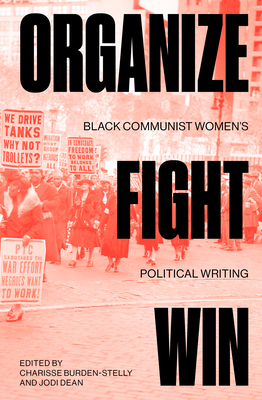 $29.95

Not On Our Shelves Now (Usually Ships in 1-5 Days)
Description
---
Black Communist women throughout the early to mid-twentieth century fought for and led mass campaigns in the service of building collective power in the fight for liberation. Through concrete materialist analysis of the conditions of Black workers, these women argued that racial and economic equality can only be achieved by overthrowing capitalism.

The first collection of its kind, Organize, Fight, Win brings together three decades of Black Communist women's political writings. In doing so, it highlights the link between Communism and Black liberation. Likewise, it makes clear how Black women fundamentally shaped, and were shaped by, Communist praxis in the twentieth century.

Organize, Fight, Win includes writings from card-carrying Communists like Dorothy Burnham, Williana Burroughs, Grace P. Campbell, Alice Childress, Marvel Cooke, Esther Cooper Jackson, Thelma Dale Perkins, Vicki Garvin, Yvonne Gregory, Claudia Jones, Maude White Katz, and Louise Thompson Patterson, and writings by those who organized alongside the Communist Party, like Ella Baker, Charlotta Bass, Thyra Edwards, Lorraine Hansberry, and Dorothy Hunton.
About the Author
---
Charisse Burden-Stelly is Assistant Professor of Africana Studies and Political Science at Carleton College. She is the author, with Gerald Horne, of W.E.B. DuBois: A Life in American History.

Jodi Dean is the author of numerous books, including The Communist Horizon, Crowds and Party and, most recently, Comrade.
Praise For…
---
"Charisse Burden-Stelly is a sharp engaged radical thinker, representing the best of the Black radical tradition. Along with co-editor Jodi Dean, Burden-Stelly has curated a powerful and enormously valuable collection of writings by Black socialist and communist women, rightly placing their voices at the center of U.S. and international left histories. A great teaching tool and a much needed source of inspiration for contemporary activists."
—Barbara Ransby, historian, author and activist

"The women whose voices are collected in Organize, Fight, Win are some of the principal radical thinkers and activists of the 20th century making this collection a must-read for researchers, teachers, and students of freedom struggles. Burden-Stelly and Dean have brought together some of the most significant women in the struggles for equality and their essential contribution to theorizing emancipation, including anticipating how we understand intersectionality and its relevance to political organization. These sources are an important corrective to the history of the Black Freedom Struggle and the women's rights movement putting radical Black women at the forefront of those histories."
—Denise M Lynn

"In this brilliantly curated anthology, Burden-Stelly and Dean celebrate the voices of Black and communist women whose struggles against capitalism were confluential with their struggles against sexism and white supremacy. The thoughtful collection of articles, reports, proclamations, and personal reflections provides an invaluable glimpse of the essential political role that Black women played between 1919 and 1956, an era which encompassed the first Red Scare, the Great Depression, the Spanish Civil War, World War II, and the second Red Scare instigated by the House Un-American Activities Committee and Joseph R. McCarthy. Organize, Fight, Win reminds us that anticommunism remains a key ideological bludgeon of American white supremacists to this day and provides relevant theoretical tools for continued resistance."
—Kristen Ghodsee, Author of Red Valkyries: Feminist Lessons from Five Revolutionary Women

"Charisse Burden-Stelly and Jodi Dean have assembled a fascinating archive of writings by Black women in and around the CPUSA. These militants provide us with an important model for how to be anticapitalist, antiracist, antisexist, anti-imperialist, and antimilitarist all at once."
—Kathi Weeks

"Burden-Stelly and Dean have compiled a unique, much-needed volume on the lives and thought of black women communists. The voices of Williana Burroughs, Louise Thompson Patterson, Thyra Edwards, Lorraine Hansberry and many others ring out here, resonating with rich historical insights and political inspiration. Organize, Fight, Win is a proper tonic against those who mischaracterize and impugn left anti-capitalist struggle as some whites-only political project."
—Cedric Johnson, author of The Panthers Can't Save Us Now: Debating Left Politics and Black Lives Matter

"This is an essential and beautifully curated collection that provides an important foundation for understanding the Black radical tradition."
—Vijay Prashad

"This book returns the voices of Black women Communists to their rightful place in histories of labor, race, and gender in the 20th century. Libraries serving historians or general readers interested in Black women's history and activism need to add this to their shelves."
—Library Journal

"In their new collection Organize, Fight, Win, which gathers the writings of Black Communist women starting in the 1920s, Jodi Dean and Charisse Burden-Stelly provide a genealogy for the strains of Black feminism that emerged as part of the radicalization of the 1960s."
—Keeanga-Yamahtta Taylor, The New York Review of Books

"In this groundbreaking collection, Burden-Stelly and Dean have compiled a treasure trove of historical, political and seminal writings about Communism from Black women's perspectives. Includes pieces by Claudia Jones, Charlotta Bass, Alice Childress, Dorothy Burnham and so many more."
—Ms. Magazine

"Organize, Fight, Win brings to light to the theories and tactics activists used to build successful coalition movements at the beginning of the 20th century, and their enduring relevance in today's political climate."
—Morgan Forde, The Nation

"This text is an important addition to the history of the United States, especially as regards the struggle for Black residents' freedom and equality. The fact that all of the work included in this book is written by communists is also important in that it proves the important role they played in the struggle during the period represented. However, more than just a look at that legacy, Organize, Fight, Win is also a working textbook for the current and future state of the fight for liberation and against the economic system of capitalism; a system that is the basis of most every other oppression, especially those targeting Black and Brown people."
—Ron Jacobs, Counterpunch

"[Organize, Fight, Win] confounds decades of obfuscation and contemporary misconceptions, uncovering a hidden history of black women's leadership of and struggle within communist parties and movements in the twentieth century. Debates around theory and strategy take on a new vibrancy in these writings and paint a picture of left-wing party building that challenges stale caricature."
—Chris Dite, Jacobin

"Urgent and passionate ... the editors' careful work has not only corrected the historical narrative but achieved something inspiring."
—Helen Mercer, Morning Star

"[An] essential collection…"
—Andy Hines, Public Books