Words: A Collation (The Africa List) (Hardcover)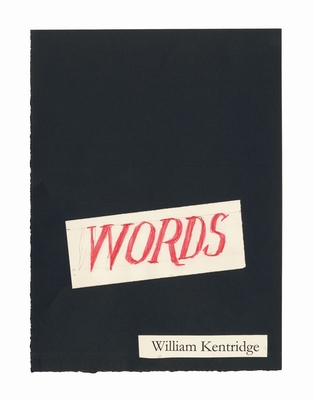 Description
---
An exploration of phrases and excerpts that inspire a major contemporary artist.
 
Over the past several years, renowned South African artist William Kentridge has made a collection of particular phrases and sentences that have called out to him from the pages of whatever he has been reading. And these phrases, which he has written into a studio notebook titled Words, have been put to work in many of his artistic projects. Kentridge has often begun a project by paging through the notebook, waiting for a phrase to claim its place in the new work. The text excerpts come from many sources: Aimé Césaire, Yehuda Amichai, Sigmund Freud, James Joyce, Setswana proverbs, the Book of Ecclesiastes, Tristan Tzara's Dada Manifesto, and a range of eastern European poets. This volume presents a selection made from the notebook, with phrases arranged neither randomly nor with a clear agenda but finding a space in between. Cleverly designed by the artist and beautifully produced, Words is a thought-provoking collection that provides a window to the mind of a contemporary creative genius.
 
About the Author
---
William Kentridge is an artist best known for his animated films based on charcoal drawings. He also works in prints, books, collage, sculpture, and the performing arts. His work has been widely exhibited, including at the Museum of Modern Art, the Musée du Louvre, Whitechapel Gallery, the Reina Sofia museum, and the Kunstmuseum Basel.