Anselm Kiefer in Conversation with Klaus Dermutz (The Seagull Library of German Literature) (Paperback)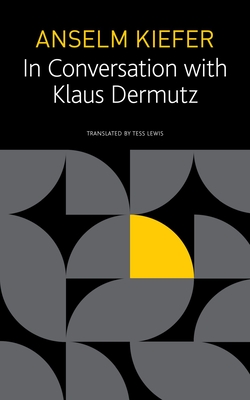 Description
---
In the ten conversations with the writer and theologian Klaus Dermutz collected here, Kiefer returns to the essential elements of his art, his aesthetics, and his creative processes.

The only visual artist to have won the Peace Prize of the German Book Trade, Anselm Kiefer is a profoundly literary painter. In these conversations, Kiefer describes how the central materials of his art—lead, sand, water, fire, ashes, plants, clothing, oil paint, watercolor, and ink—influence the act of creation. No less decisive are his intellectual and artistic touchstones: the sixteenth-century Jewish mystic Isaac Luria, the German Romantic poet Novalis, Ingeborg Bachmann, Paul Celan, Martin Heidegger, Marcel Proust, Adalbert Stifter, the operas of Richard Wagner, the Catholic liturgy, and the innovative theater director and artist Tadeusz Kantor. Kiefer and Dermutz discuss all of these influential thinkers, as well as Kiefer's own status as a controversial figure. His relentless examination of German history, the themes of guilt, suffering, communal memory, and the seductions of destruction have earned him equal amounts of criticism and praise. The conversations in this book offer a rare insight into the mind of a gifted creator, appealing to artists, critics, art historians, cultural journalists, and anyone interested in the visual arts and the literature and history of the twentieth century.
About the Author
---
Anselm Kiefer is a painter, sculptor, and installation artist living and working in France. His works have been exhibited at MoMA, the San Francisco Museum of Art, the Guggenheim, and the Louvre, among many others.
Praise For…
---
"This tome is an essential read that offers a rare access into a mind of a great artist – an artist that transcends confines, labels and defies classifications – and one anyone remotely interested in visual arts and the aftermath of the twentieth century would benefit from."
— Scene Point Blank