The Interior Silence: My Encounters with Calm, Joy, and Compassion at 10 Monasteries Around the World (Hardcover)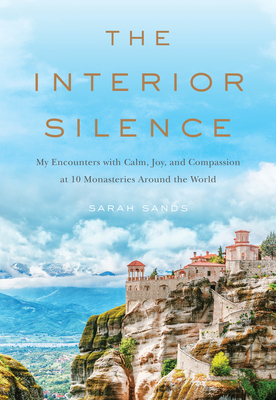 Description
---
A journey around the world to find tranquility, quiet the mind, and understand the power of silence.

Suffering from information overload and unable to sleep, acclaimed journalist Sarah Sands tried countless strategies to de-stress, only to find temporary relief. Searching for something different, something lasting, Sands went on a quest to uncover ancient and proven wisdom for a happier, quieter, and more compassionate life. In this insightful and beautifully written book, Sands takes us along on her pilgrimage to ten monasteries around the world.

In the remoteness of these sacred spaces, Sands observes a hidden knowledge held by monks and nuns—what she calls "the interior silence." Renouncing the material world, their inner concentration buoys them in an extraordinary weightlessness and freedom, an oasis of reflection. Behind the cloistered walls, Sands too finds a clarity of mind and an unexpected capacity for solitude.

From a Coptic desert community in Egypt to a retreat in the Japanese mountains, discover another way of being—moving from appetite, envy, and anxiety to compassion and appreciation. The ultimate remedy for a digital age in which everyone is talking, and no one is listening, this book reminds us of the importance of silence and the power of stillness.

BEYOND MINDFULNESS: The trendiness and explosion of books on meditation and mindfulness does not always solve our modern-day stressors or our fight-or-flight existence. The Interior Silence goes beyond new-age mindfulness to offer traditional wisdom from monks for quieting the mind and embracing simplicity.

DISCOVER ANCIENT WISDOM: For spiritual readers and wisdom seekers, The Interior Silence takes you directly to the root of these ancient practices, learning from monastic life around the world.

FOR ARMCHAIR TRAVELERS: For readers who enjoyed The Geography of Bliss, anyone who enjoys learning about new places and cultures, or for those craving a trip, this book will take you to the countryside's, deserts, and mountains of Japan, France, Egypt, Greece, and more.

Digital audio edition introduction read by the author.
About the Author
---
SARAH SANDS is a journalist and author of two novels. A former editor of the London Evening Standard, she was editor of the Today Programme on BBC Radio 4 from 2017 to September 2020. She lives in London.
Praise For…
---
"In tumultuous times, monasteries are the ideal place for believers and nonbelievers alike to seek peace and reflection. Sarah Sands is the perfect guide to these sites of solace." 
--MATT D'ANCONA, author of Post-Truth: The New War on Truth and How to Fight Back
"I loved the mix of far-off destinations and the spiritual journey. This is a brilliant book for our times."
--MELANIE MCDONAGH, contributor to the Guardian
"What a fascinating journey, from the cauldron of news to the peace of monasteries." 
--ALICE THOMSON, columnist for the Times (UK)
"This is a book which goes beyond history to the needs of human nature. It is a balm for our times."
--ARCHDEACON OF HACKNEY