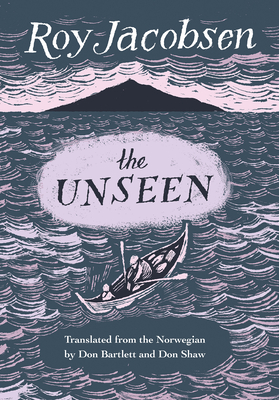 Staff Reviews
---
The Unseen is a story of elemental force with the bearing of myth. It tells of love and loss and the struggle for existence on a rough-hewn island where simple joys flash in brief moments between endless travail. It is a masterpiece and may be just the book needed for these days of social distance and uncertainty.
— Stephen
Description
---
Shortlisted for the 2017 International Man Booker Prize - Shortlisted for the 2018 International Dublin Literary Award​ - "Even by his high standards, his magnificent new novel The Unseen is Jacobsen's finest to date, as blunt as it is subtle and is easily among the best books I have ever read."―Eileen Battersby, Irish Times
Born on the Norwegian island that bears her name, Ingrid Barr y's world is circumscribed by storm-scoured rocks and the moods of the sea by which her family lives and dies. But her father dreams of building a quay that will end their isolation, and her mother longs for the island of her youth, and the country faces its own sea change: the advent of a modern world, and all its unpredictability and violence. Brilliantly translated into English by Don Bartlett and Don Shaw, The Unseen is the first book in the Barr y Chronicles and a moving exploration of family, resilience, and fate.