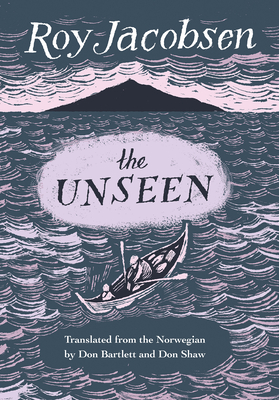 Staff Reviews
---
The Unseen is a story of elemental force with the bearing of myth. It tells of love and loss and the struggle for existence on a rough-hewn island where simple joys flash in brief moments between endless travail. It is a masterpiece and may be just the book needed for these days of social distance and uncertainty.
— Stephen
April 2020 Indie Next List
---
"Never has a novel so utterly simple left me with such deep contemplation. I know Ingrid will linger in the back of my mind for a long while, continuing to grow, discover, and dig into her island with unique grit. Jacobsen has left me tossing in a boat at sea, filled with the determination of the Barrøys to make their tiny Norwegian island more than is possible and, at the same time, torn by nagging questions of what else life might offer."
— Carrie Koepke, Skylark Bookshop, Columbia, MO
Description
---
Shortlisted for the 2017 International Man Booker Prize - Shortlisted for the 2018 International Dublin Literary Award​ - "Even by his high standards, his magnificent new novel The Unseen is Jacobsen's finest to date, as blunt as it is subtle and is easily among the best books I have ever read."―Eileen Battersby, Irish Times
Born on the Norwegian island that bears her name, Ingrid Barr y's world is circumscribed by storm-scoured rocks and the moods of the sea by which her family lives and dies. But her father dreams of building a quay that will end their isolation, and her mother longs for the island of her youth, and the country faces its own sea change: the advent of a modern world, and all its unpredictability and violence. Brilliantly translated into English by Don Bartlett and Don Shaw, The Unseen is the first book in the Barr y Chronicles and a moving exploration of family, resilience, and fate.