Restorative Practices of Wellbeing (Hardcover)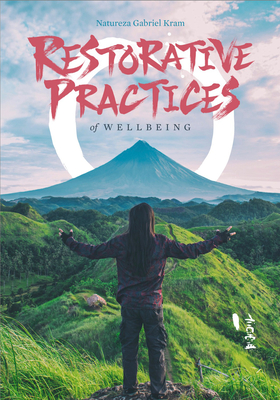 Description
---
Drawing on cutting-edge neurophysiology and ancient awareness practices, a pioneering connection phenomenologist maps a medicine of the ancestral future.
The landmark Adverse Childhood Experiences study, the largest epidemiological study of trauma ever done, suggests that more than two thirds of American adults are carrying trauma from early childhood adversity. Yet the study did not even conceptualize social trauma: the impacts of racism, sexism, and other forms of structural oppression, or ecological trauma: the trauma of being disconnected from the Living World. By this metric, almost all modern people are traumatized.
Trauma activates the toxic stress response, which translates to a wide variety of stress-related adverse health outcomes later in life. It shapes how we feel in our bodies, our emotional landscape, and structures the thoughts we are able to think. It shapes how we see ourselves, how we interpret the world, and the behaviors available to us.
For the two million years that humans have lived on earth, we have sought to nourish thriving in our children by creating a kind of developmental nest for them. For humans, this nest is of culture and its function is to connect us with three things: ourselves, one another, and the Living World. When this is done properly, the human nervous system becomes baselined in safety and connection, turning on the Connection System, the physiological fountain of wellbeing and resilience.
Over the past 10,000 years, humans have deviated from this ancestral nest at an accelerating rate, which has intensified over the past 500 years. Most modern humans therefore do not feel safe, and are therefore not able to reside in the biology of wellbeing. Humans who are disconnected do not care for themselves, one another, or the Living World.
In this pioneering volume, connection phenomenologist Gabriel Kram addresses two fundamental practical questions: how do we address the trauma and disconnection endemic to the modern world, and how do we turn on the Connection System? Marrying cutting-edge neurophysiology with awareness technologies from a wide variety of traditions and lineages, this book maps a novel approach to the creation of wellbeing informed by the most cutting-edge science, and the most ancient of awareness practices.
It teaches over 300 restorative practices of wellbeing to connect with Self, Others, and the Living World. Learn practices for
Assessing your defensive responses
Down-shifting threat responses
Turning on your Connection System
Weaving Mindfulness into daily life
Fine-tuning your senses
Becoming more embodied
Developing non-cognitive Ways of Knowing
Building Healthier relationships
Relating Across difference
Connecting deeply with Nature
Opening to creativity
Using language restoratively
For anyone who has faced a difficult childhood, grown up with a sense that there is something missing in the modern world, or yearns for deeper connection with Self, Others, or the Living World, this book provides a map to a (r)evolutionary approach to wellbeing so ancient it hasn't been invented yet.