The House of Arden (Paperback)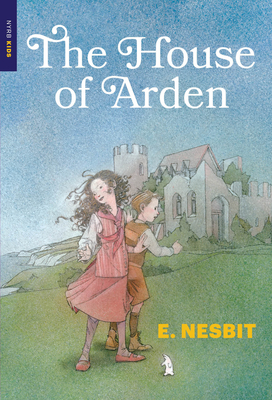 Description
---
Now in paperback, an enchanting tale of time travel and treasure hunting by one of England's finest storytellers.

The famous Arden family treasure has been missing for generations, and the last members of the Arden line, Edred, Elfrida, and their aunt Edith, have nothing to their names but the crumbling castle they live in. Just before his tenth birthday, Edred inherits the title of Lord Arden; he also learns that the missing fortune will be his if—and only if—he can find it before he turns ten. With no time to lose, Edred and Elfrida secure the help of a magical talking creature, the temperamental Mouldiwarp, who leads them on a treasure hunt through the ages. Together, brother and sister visit some of the most thrilling periods of history and test their wits against real witches, highwaymen, and renegades. They find plenty of adventure, but will they find the treasure before Edred's birthday?
About the Author
---
Edith Nesbit (1858–1924) wrote more than sixty books for children under the name E. Nesbit, including Five Children and It and The Story of the Amulet. Throughout much of her life, Nesbit was at the center of a community of artists and political activists; both she and her husband were founding members, along with George Bernard Shaw and H.G. Wells, of the Fabian Society, a socialist group with close ties to Britain's Labour Party.
Praise For…
---
"Finally, the admirable New York Review Children's collection has a new edition of E. Nesbit's The House of Arden and what a terrific story it is. The Mouldiwarp, a mole-like curmudgeon, isn't quite as good as the Psammead of Five Children and It but it too unlocks magic for Edred and Elfrida, two children in search of treasure. What a genius Edith Nesbit was." —Melanie McDonagh, The Year's Best Children's Books, The Spectator (UK)

". . .book after book, [Nesbit] rearranged [the stories] with enough invention and emotional intelligence to become one of the most celebrated children's authors of the Edwardian decade. . . . episodic and sometimes picaresque, shrugging off the moralizing that was native to young people's literature of the time, in favor of privileging a child's logic and point of view." —Jessica Winter, The New Yorker

"I love E. Nesbit—I think she is great and I identify with the way that she writes. Her children are very real children and she was quite a groundbreaker in her day." —J.K. Rowling

"New York Review Books deserves a medal for its burgeoning collection of reissues of out-of-print children's books, books that need to see the light of day in the hands of a new generations of readers, books such as T. H. White's Mistress Masham's Repose, Wee Gillis, by Munro Leaf and Robert Lawson, a slew of books by Esther Averill and, of course, the incomparable Ms. Nesbit's The House of Arden . . . Magic, mayhem and time travel ensue . . . The book is a treasure itself, a slice of Edwardian life." —The Globe and Mail

"[Nesbit] could present everyday people caught up in supernatural situations just as naturally as she permits the realistic details of everyday life to obtrude into her world of fantasy." —The Horn Book

"A good case could be made for E. Nesbit as the best writer for children ever." —Washington Post Book World

"For many readers — H.G. Wells and Laurence Houseman, G.K. Chesterton and Noel Coward — for these and thousands more, the most magical stories of modern times are those by that Edwardian wizard E. Nesbit . . . To come upon any Nesbit today, hitherto unread, . . . is like receiving a letter from a friend whom you have believed dead. . . . It doesn't really matter what her children do, they are real children, quite self-sufficient, almost always very funny and rarely insufferable. 'The reason why those children are like real children,' explained Miss Nesbit, 'is that I was a child once myself, and by some fortunate magic I remember exactly how I used to feel and think about things.' And she could have gone on to say, 'The reason why I write some of the best magic books in which anything, even miracles, can happen and everyone believes in them, is because I know that anything, even miracles, can and do happen all the time.'" —Leo Lerman, The New York Times

"Nesbit's breezy voice, air of camaraderie and nascent feminism, as well as her sense of humour give House of Arden great liveliness and verve . . . Innovative in her time, Nesbit's keen sympathy for children's feelings and humorously practical take on the results of magic are still refreshing." —The Toronto Star