Memoirs from Beyond the Grave: 1800-1815 (Paperback)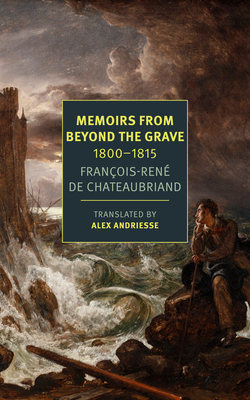 Description
---
The second part of an infamous memoir about life in the time of Napoleon by a rebellious literary celebrity.

In 1800, François-René de Chateaubriand sailed from the cliffs of Dover to the headlands of Calais. He was thirty-one and had been living as a political refugee in England for most of a decade, at times in such extreme poverty that he subsisted on nothing but hot water and two-penny rolls. Over the next fifteen years, his life was utterly changed. He published Atala, René, and The Genius of Christianity to acclaim and epoch-making scandal. He strolled the streets of Jerusalem and mapped the ruins of Carthage. He served Napoleon in Rome, then resigned in protest after the Duc d'Enghien's execution, putting his own life at tremendous risk.

Memoirs from Beyond the Grave: 1800–1815—the second volume in Alex Andriesse's new and complete translation of this epic French classic—is a chronicle of triumphs and sorrows, narrating not only the author's life during a tumultuous period in European history but the "parallel life" of Napoleon. In these pages, Chateaubriand continues to paint his distinctive self-portrait, in which the whole history of France swirls around the sitter like a mist of dreams.
About the Author
---
François-René de Chateaubriand (1768–1848) was born in Saint-Malo, on the northern coast of Brittany, the youngest son of an aristocratic family. Long recognized as one of the first French Romantics, Chateaubriand was also a historian, diplomat, and staunch defender of the freedom of the press. He is best remembered for his posthumously published Memoirs from Beyond the Grave (an NYRB Classic).
 
Alex Andriesse's essays and poems have appeared in Granta, Review of Contemporary Fiction, and Literary Imagination. His translations include Roberto Bazlen's Notes Without a Text and Other Writings and François-René de Chateaubriand's Memoirs from Beyond the Grave: 1768–1800, which is also available from NYRB Classics. He lives in the Netherlands.
 
Julien Gracq (1910–2007), born Louis Poirier, was a French writer of novels, plays, poetry, and literary criticism. His novel Balcony in the Forest is available from NYRB Classics.
Praise For…
---
"Chateaubriand's self-appointed calling was as court historian who held his subject in contempt, ensuring that the truth would out about the monsters who rule the world for a spell. His eloquence won the regard even of his sworn enemy. . . . May he find comparable honor in our time and our place." —Algis Valiunas, National Review

"The best autobiography ever written . . . . The old viscount could write one hell of a sentence. It's an incredible book." —Paul Auster, The Book of Illusions