The Secret Commonwealth: Of Elves, Fauns, and Fairies (Paperback)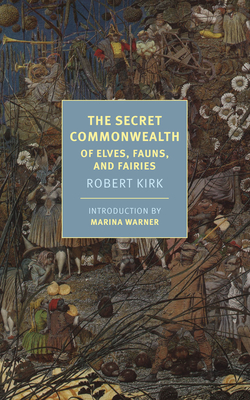 $14.95

Not On Our Shelves Now (Usually Ships in 1-5 Days)
Description
---
A classic, enchanting document of Scottish folklore about fairies, elves, and other supernatural creatures.

Late in the seventeenth century, Robert Kirk, an Episcopalian minister in the Scottish Highlands, set out to collect his parishioners' many striking stories about elves, fairies, fauns, doppelgängers, wraiths, and other beings of, in Kirk's words, "a middle nature betwixt man and angel." For Kirk these stories constituted strong evidence for the reality of a supernatural world, existing parallel to ours, which, he passionately believed, demanded exploration as much as the New World across the seas. Kirk defended these views in The Secret Commonwealth, an essay that was left in manuscript when he died in 1692. It is a rare and fascinating work, an extraordinary amalgam of science, religion, and folklore, suffused with the spirit of active curiosity and bemused wonder that fills Robert Burton's Anatomy of Melancholy and the works of Sir Thomas Browne. The Secret Commonwealth is not only a remarkable document in the history of ideas but a study of enchantment that enchants in its own right.


First published in 1815 by Sir Walter Scott, then reedited in 1893 by Andrew Lang, with a dedication to Robert Louis Stevenson, The Secret Commonwealth has long been difficult to obtain—available, if at all, only in scholarly editions. This new edition modernizes the spelling and punctuation of Kirk's little book and features a wide-ranging and illuminating introduction by the critic and historian Marina Warner, who brings out the originality of Kirk's contribution and reflects on the ongoing life of fairies in the modern mind.
About the Author
---
Robert Kirk (1641?–1692) was the seventh son of James Kirk, Minister of Aberfoyle. He studied at Edinburgh and St. Andrews, became Minister of Balquhidder in 1664, and succeeded his father at Aberfoyle in 1685. Kirk published the first Gaelic translation of the Psalms and oversaw the preparation of the first romanized version of the Gaelic Bible. The Secret Commonwealth was left in manuscript at the time of his death.
Marina Warner's studies of religion, mythology, and fairy tales include Alone of All Her Sex: The Myth and the Cult of the Virgin Mary, From the Beast to the Blonde, and Stranger Magic (National Book Critics Circle Award for Literary Criticism; Truman Capote Award). A Fellow of the British Academy, Warner is also a professor of English and creative writing at Birkbeck, University of London. In 2015 she was given the Holberg Prize and in 2017 she was elected president of the Royal Society of Literature. Her most recent book is Forms of Enchantment: Writings on Art and Artists.
Praise For…
---
"Kirk's writing is often enchanting. He describes fairies with 'bodies of condensed cloud', chameleon bodies 'that swim in air'. Sometimes he is terrifying, as when he writes of the 'joint eater or just halver . . . he continues lean, like a hawk or heron, notwithstanding his devouring appetite'. . . . Posthumously—if that is the right word—Kirk became famous as the victim of the fairies rather than their champion. He was swept away by them. They must have welcomed so learned and genial a champion." —Diane Purkiss, The Times Literary Supplement

"Kirk treats the land of faery as a mere fact in nature, a world with its own laws, which he investigates without fear of the Accuser of the Brethren. We may thus regard him as an early student in the folk-lore of psychical research." —Andrew Lang

"Kirk is a magnificent dish to set before any student of either folk-lore or folk-psychology." —Times Literary Supplement

"A slim quarto-size book (like a paperback novel in boards) and less than a hundred pages of text, this New York Review of Books edition is the first in more than a century and contains a well-written introduction and end notes by Marina Warner. Also included is Kirk's own glossary of 'difficult words,' in which we learn the 17th-century meanings of adscititious, defaecat, lychnobious and noctambulo." —The Philadelphia Inquirer

"Kirk's Secret Commonwealth is one of those books which are well known but hard to come by . . . His little treatise is a most careful and thorough piece of work, made the more so by the spirit in which it was written . . . The result is one of the completest descriptions extant of that special phase of popular belief." —The Times Literary Supplement