Almost Nothing: The 20th-Century Art and Life of Józef Czapski (Paperback)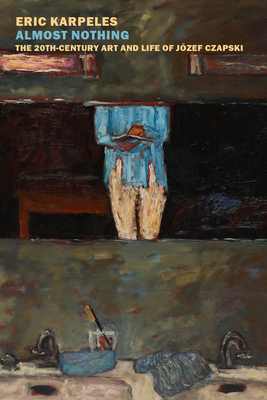 Description
---
A compelling biography of the Polish painter and writer Józef Czapski that takes readers to Paris in the Roaring Twenties, to the front lines during WWII, and into the late 20th-century art world.

Józef Czapski (1896–1993) lived many lives during his ninety-six years. He was a student in Saint Petersburg during the Russian Revolution and a painter in Paris in the roaring twenties. As a Polish reserve officer fighting against the invading Nazis in the opening weeks of the Second World War, he was taken prisoner by the Soviets. For reasons unknown to this day, he was one of the very few excluded from Stalin's sanctioned massacres of Polish officers. He never returned to Poland after the war, but worked tirelessly in Paris to keep alive awareness of the plight of his homeland, overrun by totalitarian powers. Czapski was a towering public figure, but painting gave meaning to his life. Eric Karpeles, also a painter, reveals Czapski's full complexity, pulling together all the threads of this remarkable life.
About the Author
---
Eric Karpeles is a painter, writer, and translator. His comprehensive guide, Paintings in Proust, considers the intersection of literary and visual aesthetics in the work of the great French novelist. He has written about the paintings of the poet Elizabeth Bishop and about the end of life as seen through the works of Emily Dickinson, Gustav Mahler, and Mark Rothko. The painter of The Sanctuary and of the Mary and Laurance Rockefeller Chapel, he is the also the translator of Józef Czapski's Lost Time: Lectures on Proust in a Soviet Prison Camp and Lorenza Foschini's Proust's Overcoat. He lives in Northern California.
Praise For…
---
"Eric Karpeles has undertaken exhaustive research and recounts Czapski's life and achievements with clarity and love." —Gauvin Alexander Bailey, The Art Newspaper

"This gentle, tenacious, adamantine figure has been far too little known in the West—until now. New York Review Books recently published a moving and strikingly original biography by Eric Karpeles, Almost Nothing: The 20th-Century Art and Life of Józef Czapski; a new translation by Antonia Lloyd-Jones of Inhuman Land: Searching for the Truth in Soviet Russia, 1941-42; and Mr. Karpeles's translation of Czapski's Lost Time: Lectures on Proust in a Soviet Prison Camp. Together these books document Czapski's physical and spiritual survival during a nightmare era, but, more than that, they re-create an overlooked life, one marked by an exemplary measure of modesty, moral clarity and artistic richness. Moreover, Mr. Karpeles, a California-based painter and art critic, has ignited international interest in Czapski's artwork." —Cynthia Haven, The Wall Street Journal

"The Polish painter and writer Józef Czapski lived through almost the entire twentieth century as an exception to the rule. A pacifist who became a Polish army officer being deported to a Soviet prison camp in 1939, he was one of very few to survive the Katyn massacre perpetrated by Stalin's secret police the following year....He was both a patriot and a European in the deepest sense, with friends and family connections across the continent. In this year's centenary of independence regained, a new generation of Poles in a country at the crossroads must decide whether Czapski's vision will also be theirs." —Stanley Bill, Times Literary Supplement

"Engaging life of a little-known artist and writer who was on hand for some of the 20th century's major events….A central episode in Czapski's life was his internment in Russia before being allowed to go to British territory, which he recounts in Inhuman Land (just published, also by NYRB); Karpeles sheds abundant light on that episode, giving us a nuanced portrait of a man of parts. A Zelig-like figure, Czapski is, by Karpeles' account, 'largely unknown to American readers and artists.' This fine biography serves as a useful corrective." —Kirkus, starred review
"Józef Czapski was a soldier, diplomat, aristocrat, writer, intellectual, and, down to the tips of his fingers, an artist. Miraculously he has found a biographer able to grasp him on his own terms. Eric Karpeles's engrossing book is part biography, part intellectual history, part personal memoir—and finally (and this is the miraculous part) a confrontation across time and across canvas of one artist with another. He has written a beautiful, essential book." —Mark Danner
 
"Almost Nothing is an amazing and completely unexpected achievement. It's a story with epic sweep that is apt to put you in mind of War and Peace and Doctor Zhivago. And, as it braids together the brilliance and cruelty of the twentieth century, it is told with a steadiness of vision that is breathtaking. A book you will want to get your hands on." —Robert Hass

"Józef Czapski was a beautiful human being, courageous, noble but also hard-working; occasionally a soldier, journalist, diarist, always writing, drawing, always with a sketchbook in hand, always ready to help friends and strangers. In his person high intelligence and remarkable artistic talent met with an active, almost naive goodness—a rather rare combination, as we know. Almost Nothing reads at times like a political novel—when this delicate painter speaks to high-ranking Stalin's henchmen—or like "roman de l'artiste" when he talks with Anna Akhmatova in Tashkent. Eric Karpeles' generous, fantastically researched book renders justice to this exceptional figure and to the painful, monstrously brutal historical background against which Czapski's life has to be measured." —Adam Zagajewski

"Józef Czapski's essays on Proust, written in a Soviet prison camp: these proved the unlikely impetus to Eric Karpeles's remarkable biography of the Polish painter and writer, who bore witness to twentieth- century history in its peculiarly brutal Polish incarnation. Karpeles's own gifts as critic and artist produce the kind of book that Czapski himself might well have applauded. His eloquence on the paintings is unmatched.  The passion, intelligence, and commitment he brings to his task should finally give Czapski the English-language audience he so richly deserves." —Clare Cavanagh