The Milk of Dreams (Hardcover)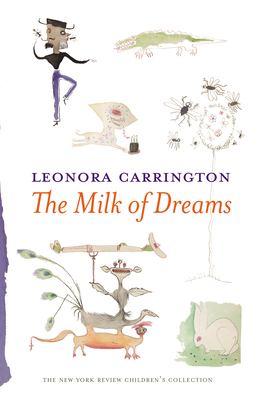 List Price: $18.95
Our Price: $17.95
(Save: $1.00 5%)
Description
---
In English for the first time, a wild and darkly funny book that combines Surrealist painter Leonora Carringon's fantastical writing and illustrations for children

The maverick surrealist Leonora Carrington was an extraordinary painter and storyteller who loved to make up stories and draw pictures for her children. She lived much of her life in Mexico, and her sons remember sitting in a big room whose walls were covered with images of wondrous creatures, towering mountains, and ferocious vegetation while she told fabulous and funny tales. That room was later whitewashed, but some of its wonders were preserved in the little notebook that Carrington called  The Milk of Dreams. 

John, who has wings for ears, Humbert the Beautiful, an insufferable kid who befriends a crocodile and grows more insufferable yet, and the awesome Janzamajoria are all to be encountered in The Milk of Dreams, a book that is as unlikely, outrageous, and dreamy as dreams themselves.
About the Author
---
Leonora Carrington (1917–2011) was born in Lancashire, England, to an industrialist father and an Irish mother. She was raised on fantastical folk tales told to her by her Irish nanny at her family's estate, Crookhey Hall. Carrington would be expelled from two convent schools before enrolling in art school in Florence. She fled Europe during the Second World War and settled in Mexico, where she married the photographer Imre Weisz and had two sons. Carrington spent the rest of her life in Mexico City, moving in a circle of like-minded artists that included Remedios Varo and Alejandro Jodorowsky. Among Carrington's published works is a novel, The Hearing Trumpet (1976), and two collections of short stories. NYRB Classics publishes her memoir, Down Below, and her Complete Stories is published by Dorothy, a Publishing Project in the United States and by Silver Press in the United Kingdom.
Praise For…
---
"It is a book that opens the imagination. . . . [In The Milk of Dreams] there are two narratives: one is written and the other is illustrated, the two converse, one with the other, and have a strange dialogue to be discovered. This kind of story is entertaining in a way that is increasingly hard to find." —Gabriel Weisz, son of Leonora Carrington

"Carrington is best known for her surrealist paintings and sculptures, but her idiosyncratic literary legacy is equally deserving of attention. . . their vivid imagery, irreverence, and surreal transformations are as provocative as they were at the time of their writing." —Tobias Carroll, The Paris Review

"These pages have traveled in my hands for more than twenty reverent years. At last they arrive. . . . " —Alejandro Jodorowsky