Critical Race Theory and Woke Culture: America's Dangerous Repeat of China's Cultural Revolution (Paperback)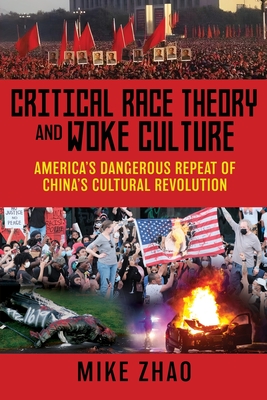 $18.96

Not On Our Shelves Now (Usually Ships in 1-5 Days)
Description
---
As the radical left introduces socialism and uses Critical Race Theory, censorship, cancel culture, and racial division to tear down America, there is reason for grave concern over the future of the country. Unfortunately, it appears that history is repeating itself and America is in danger of a cultural revolution from which it will not be able to recover.
Based on his firsthand experience of the horrors of communism, Mike Zhao crafted Critical Race Theory & Woke Culture / America's Dangerous Repeat of China's Cultural Revolution to reveal how the radical left is using the Maoist playbook to destroy America. He provides a striking overview of the similar tactics used, which include employing divisive Marxist ideologies, changing cultural values, rewriting history, indoctrinating citizens, and silencing the opposition.
Zhao warns of the dire consequences of many of the "virtuous" liberal agendas, such as censoring "misinformation," canceling dissidents, mandating racial equity, and dividing Americans into the oppressors and the oppressed.
Zhao survived communist China's Cultural Revolution and thrived in capitalist America. During China's Cultural Revolution, Zhao's family endured political persecution, extreme poverty, and devastating personal loss. Zhao's unique life experience enables him to draw parallels between what the radical left is doing in America and China's Cultural Revolution fifty years ago. Zhao is an accomplished conservative author and nationally recognized Asian American community leader. By fiercely defending America's founding principles such as the protection of individual rights, the rule of law, freedom of speech, election integrity, the free market system, equal opportunity, and meritocracy, Zhao aims to inspire Americans to fight against Critical Race Theory and "woke" culture.