Coastal Life of the Atlantic and Gulf Coasts: Easily Identify Seashells, Beachcombing Finds, and Iconic Animals (Adventure Quick Guides) (Spiral)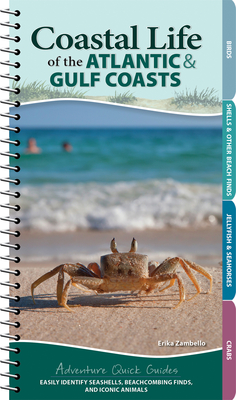 $9.95

Not On Our Shelves Now (Usually Ships in 1-5 Days)
Description
---
Get the tabbed guide to plants, animals, and sea shells of the Gulf of Mexico and the South Atlantic.
Beaches are the borders between two vastly different ecosystems. As such, they are teeming with a variety of fascinating life. Whether you're a tourist on vacation or a local resident on a day trip, keep this tabbed booklet close at hand. It features nearly 80 of the most common and important animals and plants to know--from birds and fish to crabs, sea turtles, and more Plus, the quick guide includes other beachcombing finds--like sea shells and seaglass--as well as an introduction to different kinds of sand.
The handy booklet is applicable to the coastlines of Alabama, Florida, Georgia, Louisiana, Mississippi, North Carolina, South Carolina, and Texas. It is organized by group for quick and easy identification, and it offers the at-a-glance information that you want to know. The pocket-sized format is much easier to use than laminated foldouts, and the tear-resistant pages help to make the book durable in the field. As an added bonus, the guide includes tips and suggestions for helping coastal life to thrive in this essential habitat.
Book Features:

Pocket-sized format--easier than laminated foldouts
Professional photos of each species
Entries organized by group to ensure that you quickly find what you're looking for
Easy-to-use information for even casual observers
Tips for helping coastal life in their beach environments
About the Author
---
From her home base in North Florida, Erika Zambello has explored hundreds of ecological research sites, estuarine research reserves, national parks, state parks, and national wildlife refuges across the Southeast and around the country. She is a National Geographic Young Explorer and serves on the board of the National Parks Traveler. She holds a Master's Degree in Environmental Management from the Duke Nicholas School of the Environment (where she specialized in Ecosystem Science and Conservation) and a Master's Degree in Strategic Communication from the University of West Florida. As a writer, her work has been featured in National Geographic Adventure, National Geographic Voices, Backpacker, Florida Sportsman, and more.