Animal Joy: A Book of Laughter and Resuscitation (Paperback)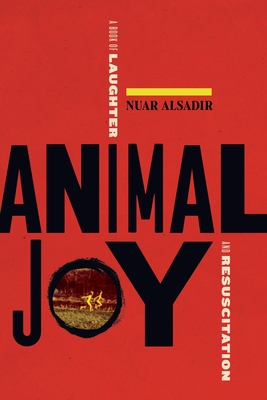 Staff Reviews
---
Nuar Alsadir's Animal Joy is a dazzlingly intelligent and associative essay on the value of spontaneity and laughter. Alsadir, who is a practicing psychoanalyst and poet, writes with graceful exactitude, piling up breathtaking revelations throughout this marvelous book. I think of it as a sort of spiritual cousin to Jenny Odell's How to Do Nothing, though it's as unique as they come. I love it, which I assure you is something I never thought I'd feel for a book that starts in clown school.
— Stephen
Description
---
A Time Must-Read Book of 2022

A Publishers Weekly Best Book of 2022

Aster(ix) Journal's 12 Best Nonfiction Books of 2022

An invigorating, continuously surprising book about the serious nature of laughter.

Laughter shakes us out of our deadness. An outburst of spontaneous laughter is an eruption from the unconscious that, like political resistance, poetry, or self-revelation, expresses a provocative, impish drive to burst free from external constraints. Taking laughter's revelatory capacity as a starting point, and rooted in Nuar Alsadir's experience as a poet and psychoanalyst, Animal Joy seeks to recover the sensation of being present and embodied. Writing in a poetic, associative style, blending the personal with the theoretical, Alsadir ranges from her experience in clown school, Anna Karenina's morphine addiction, Freud's un-Freudian behaviors, marriage brokers and war brokers, to "Not Jokes," Abu Ghraib, Frantz's negrophobia, smut, the Brett Kavanaugh hearings, laugh tracks, the problem with adjectives, and how poetry can wake us up. At the center of the book, however, is the author's relationship with her daughters, who erupt into the text like sudden, unexpected laughter. These interventions—frank, tender, and always a challenge to the writer and her thinking—are like tiny revolutions, pointedly showing the dangers of being severed from one's true self and hinting at ways one might be called back to it.

A bold and insatiably curious prose debut, Animal Joy is an ode to spontaneity and feeling alive.
About the Author
---
Nuar Alsadir is a psychoanalyst and the author of the poetry collections Fourth Person Singular, a finalist for the National Book Critics Circle Award and the Forward Prize, and More Shadow Than Bird. She lives in New York City.
Praise For…
---
"Animal Joy is at once prose poem, manifesto, sociological study and therapy session. . . . The exposition jumps for intellectual joy, hopscotching from literary criticism to philosophy and psychology to political analysis. Collectively these parts amount to an inspiring endorsement of shredding the filters of propriety wherever they are applied — personally, socially, creatively. . . . Yet, by sleight of pen, these philosophy-laden pages remain light and graceful. . . . Threaded throughout are accounts both movingly personal and endearingly experiential. . . . . The book is in effect a gift to the courageous. It offers an opportunity for self-reflection and growth. . . . Great art mainly makes you not think but feel. Animal Joy made me do both."—Melissa Holbrook Pierson, The Washington Post

"As a poet and psychoanalyst, Alsadir is fascinated by the way moments that make us laugh and feel deeply happen when the tender and taboo parts of life see the light. When something – our deep laughter, our authentic grief – upends the narratives we'd rather keep steady, we also discover the possibility for transformation."—Tess Taylor, CNN.com

"Poet and psychoanalyst Nuar Alsadir offers a study of laughter in her deftly researched and personal book Animal Joy: A Book of Laughter and Resuscitation, which explores how laughter can help us connect not only to one another but also to our deepest selves."—Annabel Gutterman, TIME, Best Books of 2022

"[Animal Joy] will leave you feeling enlightened and emboldened, and will even make you laugh."—Hephzibah Anderson, The Guardian

"Alsadir is uniquely positioned as an excavator of human emotion. . . . She draws a constellation of interactions . . . [which are] essential components of her thinking. . . . Though the terrain Alsadir covers is vast and often feels tenuously connected, the resonant beauty of her prose helps guide the reader through a deliberately cluttered and complicated narrative. . . . Challenging and deeply rewarding."—Celia Mattison, BookPage

"Gorgeously written and by turns hilarious and crushing, Alsadir's examination of humanity's 'savage complexity' is not to be missed."—Publishers Weekly, starred review

"Alsadir's Granta essay on the emotional flagellation of clowning is one of the best pieces of writing I have ever read, and her longer interrogation into the act—and release—of laughing is equally powerful and moving."—Courtney Maum, Lit Hub

"[Animal Joy] is vulnerable, lyrical, and refreshingly incisive. . . . Alsadir's quiet wit and depth of knowledge lead to unique insights and profound self-reflection."—Kirkus Reviews

"An astute, wide-ranging, and ultimately hopeful book."—Melissa Febos, Bookforum

"Expansive and erudite. . . . Watching the motion of [Alsadir's] mind across her capacious subject matter is captivating."—Kathleen Rooney, LIBER Quarterly

"Using personal experiences to develop and illustrate her arguments, Alsadir eschews the illusion of the disembodied, objective self that so often characterizes theoretical writing... Animal Joy makes visible the simultaneity of motherhood and scholarship and insists that women's bodies are essential to intellectual life."—Morgan Graham, Split Lip Magazine

"There's a vibrant sense of play coursing through Animal Joy. . . . [The book] presents the abundance of a life; in its disappointments, its traumas, its wanderings, and its delights, there lies the possibility of recognition, the knowledge that you and I are sharing an impossibility, inanity, knowledge, and physicality."—Annette Lepique, Stillpoint Magazine

"Poet and psychoanalyst Nuar Alsadir juxtaposes motherhood with circus arts in this wondrous book on laughter and reframing perceptions of joy: "Recently," she writes, "I noticed the word "moth" in the word "mother," a tendency toward light." Her writing creates a light all its own. A must read."—Idra Novey, Aster(ix) Journal's 12 Best Nonfiction Books of 2022

"Practically every page is studded with sharp-as-a-tack insights ... Animal Joy is that rare work that suspends binocular rivalry in favor of a more supple, kaleidoscopic vision. (Radial, a close anagram for Alsadir, is another way of putting it.)."—Rhoda Feng, Parapraxis

"A braided essay covering spontaneity, self-management and humour, which reads as an analysis of vibrancy itself."—Laura McLean-Ferris, Frieze

"Nuar Alsadir's Animal Joy is a dazzlingly intelligent and associative essay on the value of spontaneity and laughter. Alsadir, who is a practicing psychoanalyst and a poet, writes with graceful exactitude, piling up breathtaking revelations throughout this marvelous book."—Stephen Sparks, Lit Hub

"In Animal Joy Alsadir has dared to play true to her own 'gnomes and demons.' It is rare to read an account of parenting quite so open to the 'savage complexity' of human experience, and she charts her daughters' responses to her and to the world at large with a candour that proves both uncomfortable and funny. This sense of personal risk lends the book a particular vibrancy, and it serves an important function: 'by behaving … in line with our instincts, we have the potential to provoke ourselves – and others – into possibility'."—Kate Wakeling, Times Literary Supplement (UK)

"Intellectual yet accessible, Animal Joy is a juicy, joyful read...Here's a mind that can go anywhere, too, and we are taken on a fascinating journey with an astonishing number of brilliant insights along the way as a result."—Buzz Magazine (UK)

"A genuine masterpiece. Nuar Alsadir's Animal Joy might be the best thing I've ever read on psychoanalysis and its deep connection to living a full, real, embodied life. Utterly compelling, radical, dizzyingly original, and beautiful, this is the work of a writer at the height of their powers."—Rebecca Tamás, author of Strangers

"Nuar Alsadir's Animal Joy is extravagant with revelations. Alsadir reads the human psyche with brilliant rigor and generosity, patiently prodding underneath the surface of human behavior, language, politics, and race to get at the root of the real. After I finished Animal Joy, I came away feeling more awake, more present, and more connected to myself and the world."—Cathy Park Hong

"Nuar Alsadir has wandered fearlessly through the wordless regions of everyday life and returned intact, bearing this exhilaratingly personal and artful weave of stories and meditations. As precise as it is lyrical, Animal Joy invites us to attend anew to human feelings, those elusive, barely noticed entities transmitting everywhere, all the time, 'with a frequency outside of measurement.'"—Josh Cohen, author of Not Working

"Through the awesome and heterogeneous study of this book, laughter at first feels like the most enigmatic act, a convulsing creature in the psyche, in the home, in awkward publics, but then it is returned to us as the most true form of comprehension; an animal attitude to reality, a culturing note of corpsing, creasing, and cracking up, that snags on the meaning of everything."—Holly Pester, author of Comic Timing

"To read Animal Joy is to become alive to the condition of wakefulness in the world. This spectacular achievement by the psychoanalyst and writer Nuar Alsadir provokes and destabilizes our understanding of a life's competing narratives. I can think of no other contemporary work of nonfiction that brings together autobiography, a learned history of psychoanalysis, lyrical poetics, ontological investigations of our attempt to manage our own feelings with such astute engagement. This is a work that will change conversations about who we are, what we think motivates us, what makes us us. The meeting place of the intentional and the unintentional erupts in Animal Joy in order that we might reinvestigate our incoming thoughts and feelings with a sense of vigor and curiosity. If you are open to introducing 'tiny revolutions' of thought into your life by resisting received and uninterrogated scripts, read this book."—Claudia Rankine

"Few things feel as important right now as what Nuar Alsadir is thinking about in her brilliant new book. She considers the ways in which, despite our most determined curation of our public-faces, and despite our approval-seeking and plain old quotidian bullshittery, laughter reveals to us (and sometimes others) what we might really feel. What happens when we wonder beneath or into that unexpected chortle or snort, that losing it, that dying, when we spend a little curious time with what, in fact, beyond sanction or affirmation, moves us? Re-makes us animal to ourselves? I'm not exactly sure, but I have a hunch that for lack of what is found there we die miserably every day. Nuar Alsadir has written such a beautiful and important book."—Ross Gay, author of Be Holding and The Book of Delights

"With Animal Joy Nuar Alsadir is in a relentless pursuit of authentic life, slaying the endless ways we accept falsehoods and store-packaged simulacrums, in search for what is beyond the obvious. Alsadir radically foregrounds inner over external reality as an act of subverting convention. Moving seamlessly between the most intimate to the political reality of our time, she leans hard into the absurd, harnessing the engines of psychoanalytic theory, philosophy, and her poet's love-hate relationship with language to bring back from exile what has been rendered unthinkable by social contract. Reading this book you are on a joy ride with the mind of a free thinker who will surprise you, make you laugh uncontrollably, and trouble you until you come out changed. You will gain a different relationship to what is before you, less tolerant of the lies and defenses that keep us apart from the impulse of our true self, joys, excitements, and devastations."—Orna Guralnik, Psychologist, Psychoanalyst, Couples Therapy (Showtime)

"Where do laughter, psychoanalysis, poetry, motherhood, creativity, thought, language, and so much more intersect? In Animal Joy Nuar Alsadir shows us in dazzling fashion, demonstrating what only the essay form, in the hands of a true artist, critic, and thinker, can achieve."—John Keene, author of Punks

"Nuar Alsadir's lyrical, hilarious and beautifully undefended meditation has the capacity to widen our consciousness to allow notice of what occurs in the interstices of attention and mortification. In that way, Animal Joy is a book that seems compassionately able to read us as we turn its pages."—Jonathan Lethem