Voice of the Fish: A Lyric Essay (Paperback)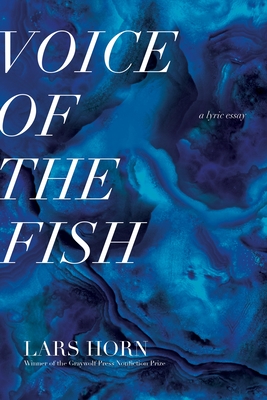 Description
---
Lars Horn's Voice of the Fish, the latest Graywolf Press Nonfiction Prize winner, is an interwoven essay collection that explores the trans experience through themes of water, fish, and mythology, set against the backdrop of travels in Russia and a debilitating back injury that left Horn temporarily unable to speak. In Horn's adept hands, the collection takes shape as a unified book: short vignettes about fish, reliquaries, and antiquities serve as interludes between longer essays, knitting together a sinuous, wave-like form that flows across the book.

Horn swims through a range of subjects, roving across marine history, theology, questions of the body and gender, sexuality, transmasculinity, and illness. From Horn's upbringing with a mother who used them as a model in photos and art installations—memorably in a photography session in an ice bath with dead squid—to Horn's travels before they were out as trans, these essays are linked by a desire to interrogate liminal physicalities. Horn reexamines the oft-presumed uniformity of bodily experience, breaking down the implied singularity of "the body" as cultural and scientific object. The essays instead privilege ways of seeing and being that resist binaries, ways that falter, fracture, mutate. A sui generis work of nonfiction, Voice of the Fish blends the aquatic, mystical, and physical to reach a place beyond them all.
About the Author
---
Lars Horn holds MAs from the University of Edinburgh, the École normale supérieure, Paris, and Concordia University, Montreal. Their work has appeared in The Kenyon Review, Write Across Canada, and New Writing Scotland. They live in Miami, Florida.
Praise For…
---
"Horn wants 'language and narrative to carry more physicality.' Voice of the Fish meets this desire with a narrative that swells and recedes, with intimate depictions of the writer's life as well as more distant tales of Pliny the Elder, a 100-year-old manuscript found in the belly of a codfish, and the history of tattooing."—Corinne Manning, New York Times Book Review

"Lars Horn's Voice of the Fish was one of those books that left me changed. . . . The writing, sentence for sentence, is extraordinary."—Alexander Chee, The Millions

"[...] Horn offers fascinating piscine lore, rendered in prose that's grounded and evocative even when hallucinatory [...]. The result is a sonorous meditation on living a fluid life."—Publishers Weekly

"Horn's story sparkles with emotional intensity. A promising literary debut."—Kirkus Reviews

"Although they don't explicitly say this, Horn's work is essentially an archival one, writing themselves, their body, their gender, and the enigmatic nature of their identity, which 'exists for the most part as unseen, unworded, unintelligible,' into our world and the historical record. They leave us with a sense of possibility of what could be, and as their "body finally breathed" at the end of the book, they give us the permission to let ours breathe, also."—Stef Rubino, Autostraddle

"This book left me stunned. Breathtaking in its scope and generosity, Voice of the Fish is that rare work that defies easy categorization. At once a personal memoir and an examination of ancient worlds and marine life, Voice of the Fish also becomes a luminous and compassionate reckoning with borders and boundaries. And all of this written in achingly beautiful prose that catches the light in even the darkest of moments. We are in the midst of a rare and transcendent talent, and how lucky we are that Lars Horn exists."—Maaza Mengiste, author of The Shadow King, shortlisted for the 2020 Booker Prize

"Ocean-deep and brimming with beauty, Voice of the Fish is a wondrous book, formed with the expansiveness and strong currents of a vast body of water. I didn't want to leave until I'd seen every glowing image."—Elissa Washuta

"Voice of the Fish is a mighty and innovative work unshackled from the patriarchal and heteronormative syntax and prose of the accepted literary cannon, and scalpled into a new way of writing, and therefore understanding, great literary work and memoir. Adventurous, bold, antiauthoritarian, and physical, we would all be well served to take note of this generation of new writers to which Horn belongs, sending us missives from the future of language and storytelling—more exacting, broad and excellent than we have yet imagined."—Casey Legler

"Casting a wide net into the realms of knowing and existing, trawling the depths of the past and the body, Lars Horn steers us in pristine and ponderous prose to places where the body is washed up, transformed, reborn. Voice of the Fish is a dazzling assemblage of essaying at its finest, a unique dive into history, philosophy, memory, and wonder. It is a voice that swims bravely against the current, finds its origin, and emerges with sequined scales of sparkling language, brilliant in its inked imaginative form."—Jenny Boully

"Voice of the Fish truly defies one form by embracing many, turning, like its author and subject, from established ideas, towards felt truths, not by denying history, but by recasting it through the lens of a person who has, for all of their life, known themselves through plunging mysteries."—Faith Hanna, The Los Angeles Review

"There's not a forgettable page in this crazy quilt of prose and prose poems. But in the end it's not the ichthyology, startling and splendid as it is, that lingers in the memory. Giving the fishes voice, Horn finds a voice of their own, all their own, and it's an interiority that radiates. It leaves us all single."—Tim Pfaff, Bay Area Reporter

"Text trembles on our tongues, is spoken and swallowed, words evaporate off skin, and Horn's prose hums in a way that often transcends language."—Ayden LeRoux, Bookforum