Desolation Wilderness and the South Lake Tahoe Basin: A Guide to Lake Tahoe's Finest Hiking Area (Paperback)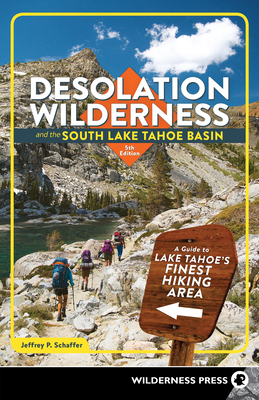 Description
---
Your Guide to Northern California's Spectacular Hiking Area
Craggy mountain crests, dozens of hiking trails, and 130 lakes packed into 100 square miles of scenic beauty, Desolation Wilderness is one of the country's most popular wilderness areas. It is minutes from Lake Tahoe and just a few hours from Sacramento and San Francisco.
Explore the mountain landscape with hiking expert Jeffrey P. Schaffer. This comprehensive guide provides information on hiking, camping, wildlife, and natural history. It covers all of Desolation Wilderness, as well as Emerald Bay, the South Fork American River, and the Upper Truckee River. Written in cooperation with the federal Lake Tahoe Basin Management Unit, the guidebook has everything you need to plan your trip and to find your way in this unparalleled region.
Inside You'll Find

Descriptions of 32 hikes, divided into four areas
Table of mileages to 80 trout-stocked lakes
Details on the terrain, lakes, animals, and vegetation
Tips on when and where to get permits, and how to enjoy your hike with minimal environmental impact
A list of the area's campgrounds, arranged by trailhead locations
Full map of the region divided into seven sections
About the Author
---
Jeffrey P. Schaffer made his first backpacking trip in a 1962 traverse of the Grand Canyon, at age 19. The following year the climbing frenzy seized him, which lasted until about 1972, some 200 roped ascents later. In that year he began working on his first book for Wilderness Press, The Pacific Crest Trail. Between then and the late 1980s, he was the sole or principal author of 12 guidebooks, and he had mapped about 4,000 miles of trail for his books and topographic maps. Innumerable observations while hiking made him question conventional geological wisdom on the origin of mountain ranges, which led him to write a lengthy book on the origin of the Sierra Nevada landscapes, particularly Yosemite Valley. At the start of the millennium he was teaching geology and geography at Napa Valley College, introducing students to the Sierra Nevada and other lands. Wilderness Press books authored or coauthored by Jeff include Hiker's Guide to the High Sierra: Yosemite and Tuolumne Meadows, Pacific Crest Trail: Southern California, Pacific Crest Trail: Northern California, The Pacific Crest Trail, Vol. 2: Oregon and Washington, Lassen Volcanic National Park and Vicinity, Yosemite National Park, Desolation Wilderness and the South Lake Tahoe Basin, The Tahoe Sierra, Hiking the Big Sur Country: The Ventana Wilderness, and The Geomorphic Evolution of the Yosemite Valley and Sierra Nevada Landscapes.