Prosperity Meditations: Everyday Practices to Create an Abundant Life (Paperback)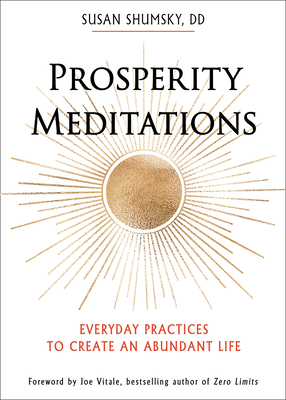 $16.95

Not On Our Shelves Now (Usually Ships in 1-5 Days)
Description
---
"Let Prosperity Meditations become your daily devotional reading. Read it. Use it. Explore it. And, expect miracles." —Dr. Joe Vitale, author, Zero Limits

A simple guide filled with affirmations and meditations to attract abundance, success, wealth, and creativity instantly!

If you want to draw prosperity into your life, first abandon the idea that spiritual people must be poor. Prosperity Meditations can help you develop a new, fresh, optimistic, and empowering attitude about money. By using its methods, you can change your belief about prosperity and thereby draw greater wealth into your life on all levels: spiritual, emotional, mental, physical, material, environmental, and planetary.

You have the power to create affluence in all areas of life—not just material. The Creator is waiting for you to open to the unlimited riches of heaven that are always available to you. All you need is to learn how to receive the boundless bounty that is your birthright.

How does poverty help spiritual people fulfill their laudable, idealistic dreams and aspirations? Wouldn't the world be a better place if spiritual people, who aspire to do good, had access to limitless wealth? Could you help heal the planet and lift people's consciousness if you had greater resources at your disposal?

If you say yes, this book can help you manifest your fondest dreams and desires through the mental alchemy of meditation—a process that can change your mind, which, in turn, can change your life and thereby positively transform the planet.
About the Author
---
Susan Shumsky, DD, dedicates her life to helping people take command of their lives in highly effective, powerful, positive ways. She is an award-winning, bestselling author of 14 books, including Instant Healing, The Big Book of Chakras and Chakra Healing, and Third Eye Meditations. A pioneer in the human potential field, she has taught meditation, prayer, affirmation, and intuition worldwide for 50 years. Shumsky is the founder of Divine Revelation®—a unique field-proven technology for contacting the divine presence, hearing and testing the inner voice, and receiving clear divine guidance. For 22 years, her mentor was Maharishi Mahesh Yogi, guru of the Beatles and Deepak Chopra. Visit her at www.drsusan.org and www.divinetravels.com.