Swamplands: Tundra Beavers, Quaking Bogs, and the Improbable World of Peat (Paperback)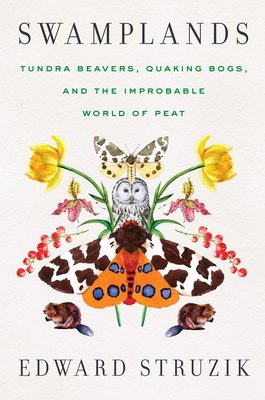 Description
---
In a world filled with breathtaking beauty, we have often overlooked the elusive charm and magic of certain landscapes. A cloudy river flows into a verdant Arctic wetland where sandhill cranes and muskoxen dwell. Further south, cypress branches hang low over dismal swamps. Places like these–collectively known as swamplands or peatlands–often go unnoticed for their ecological splendor. They are as globally significant as rainforests, and function as critical carbon sinks for addressing our climate crisis. Yet, because of their reputation as wastelands, they are being systematically drained and degraded to make way for oilsands, mines, farms, and electricity.
 
In Swamplands, journalist Edward Struzik celebrates these wild places, venturing into windswept bogs in Kauai and the last remnants of an ancient peatland in the Mojave Desert. The secrets of the swamp aren't for the faint of heart. Ed loses a shoe to an Arctic wolf and finds himself ankle-deep in water during a lightning storm. But the rewards are sweeter for the struggle: an enchanting Calypso orchid; an elusive yellow moth thought to be extinct; ancient animals preserved in lifelike condition down to the fur.

Swamplands highlights the unappreciated struggle being waged to save peatlands by scientists, conservationists, and landowners around the world. An ode to peaty landscapes in all their offbeat glory, the book is also a demand for awareness of the myriad threats they face. It urges us to see the beauty and importance in these least likely of places­. Our planet's survival might depend on it.
 
About the Author
---
Edward Struzik has been writing about scientific and environmental issues for more than 30 years. A fellow at the Institute for Energy and Environmental Policy at Queen's University in Kingston, Canada, his numerous accolades include the prestigious Atkinson Fellowship in Public Policy and the Sir Sandford Fleming Medal, awarded for outstanding contributions to the understanding of science. In 1996 he was awarded the Knight Science Journalism Fellowship and spent a year at Harvard and MIT researching environment, evolutionary biology, and politics with E.O. Wilson, Stephen Jay Gould and Richard Lewontin. His 2015 book, Future Arctic, focuses on the effects of climate change in the Canadian Arctic and the impacts they will have on rest of the world. His other books include Swamplands, Firestorm, Arctic Icons, The Big Thaw, and Northwest Passage. He is an active speaker and lecturer, and his work as a regular contributor to Yale Environment 360 covers topics such as the effects of climate change and fossil fuel extraction on northern ecosystems and their inhabitants. He is on the Board of Directors for the Canadian Arctic Resources Committee, a citizens' organization dedicated to the long-term environmental and social well-being of northern Canada and its peoples. He lives in Edmonton, Alberta.
Praise For…
---
"Adventurous natural history… Swamplands belongs to the John McPhee school of science popularizing, incorporating profiles of on-site specialists into its crisp and enthusiastic explainers. The striking geological process behind the formation of peat gets its due, as do these regions' extraordinary biodiversity. None of this, of course, makes the world of fens and bogs any more hospitable to people. But by the end of this fascinating book, that seems like a point in their favor."
— Wall Street Journal

"Part science, part history, part travelogue…[a] rare treasure—nature writing that isn't pure elegy."
— Sierra

"His book has relevance to many disciplines – ecology, environmental science, cultural studies, anthropology, history, postcolonial studies – without ever getting bogged down in jargon or discussion of scholarship. Struzik's writing is consistently descriptive and conversational, so that the reader feels as though they're accompanying him and his interviewees through isolated landscapes , sharing his sense of wonder."
— Economy, Land & Climate Insight

"Struzik writes with immediacy and a sense of awe, bewitching readers with the unexpected beauty of peatlands."
— Booklist

"A powerful, impressive feat of popular science that is vitally needed in an era of climate change."
 
— Library Journal

"Few books attempt to do what Ed Struzik's latest book, Swamplands, does so well: taking the reader knee-deep into an ecosystem that few ever think about, let alone possess the desire (or nerve) to travel to, or rally around…. Swamplands is a timely cry against the ongoing consequences of draining wetlands for farmland and commercial development, and of stripping peatlands for fuel and fertilizer."
 
— Alberta Views

"Timely and enchanting disquisition on the many facets of peat...ultimately this is a book that stands apart for its playfulness and curiosity, for a sense of wonder that does not yield to despair or grief."
— Literary Review of Canada

"By exposing and exploring the varied influences on swamp management, perception, and evolution, Edward Struzik contributes a key resource that is highly recommended for any collection strong in ecological systems analysis."
 
— Donovan's Literary Services

"I would wholeheartedly recommend Swamplands to anyone interested in reading auto biographical accounts, learning about undervalued and little-understood landscapes, or examining human interactions with the natural world…. It is packed with expedition anecdotes, scientific facts and insights into human history, and there is no doubt that you will finish Swamplands both more knowledgeable and more appreciative of these boggy landscapes."
 
— Oryx

"Swamplands was a wonderful glimpse into the amazing world of peatlands. I was most impressed that the book took a more diverse look at peatlands by incorporating the stories of the different types of peatlands and peatland organisms. In addition, the reader is informed of abundant factors that have led to peatland degradation and their historical context."
— Restoration Ecology

"Despite of their miasmatic origins, peatlands will continue to be deeply interwoven in human history, and books like Swamplands are crucial for shifting gears in the way society sees, understands, utilizes, and ultimately preserves these important habitats."
 
— Community Ecology

"Swamplands is engaging because Struzik combines firsthand observations from fieldwork with those of peatland scientists to distill key functions of these areas plus the stress brought on by human misuses and climate change. This makes the issues more concrete and less abstract."
 
— Journal of Environmental Studies and Sciences

"Swamplands contributes to discussions on how to create a sustainable future and avoid repeating past errors. Whether at home or the library, this book belongs on an accessible shelf next to Aldo Leopold's A Sand County Almanac (Oxford University Press, 1949) and Rachel Carson's Silent Spring (Houghton Mifflin, 1962). You will be referring to all three soon."
 
— Canadian Field Naturalist

"Struzik has journeyed into the little-known world of swamplands and returned with a richly detailed, beautifully written, cautionary tale of a climate superhero in crisis. For anyone concerned about global warming, wildfires, water shortages and conservation, Swamplands is a poignant reminder that some solutions are right at our toe-tips. For peat's sake, read this book!" 
— Sarah Cox, author of 'Breaching the Peace: The Site C Dam and a Valley's Stand Against Big Hydro'

"Expect to encounter the unexpected in this science- and story-rich book. Most unexpected will be your new fascination with bogs, fens, moors, and marshes—those folklorically dark, pestilential environments. Edward Struzik and a procession of eccentric-yet-wise characters turn old, deprecating notions on their head and reveal fabled wastelands to be vital wonderlands."
— Jack E. Davis, Pulitzer Prize-winning author of 'The Gulf: The Making of an American Sea and The Bald Eagle: The Improbable Journey of America's Bird'

"Hiking and paddling into swamps, bogs, and fens large and small, Edward Struzik takes us into hidden and watery peatlands. We need to know peat. Struzik's the expert to lead us."
— Deborah Cramer, author of 'The Narrow Edge'

"This amazing book is as rich and multilayered as swamplands themselves. You won't be able to stop reading as you discover these remarkable, hidden places—critical habitat for myriad birds, mammals, insects, and plants, and essential for the health of our entire planet."
— Jeffrey Wells, Vice President, Boreal Conservation, National Audubon Society