The Self Care Prescription: Powerful Solutions to Manage Stress, Reduce Anxiety & Increase Wellbeing (Paperback)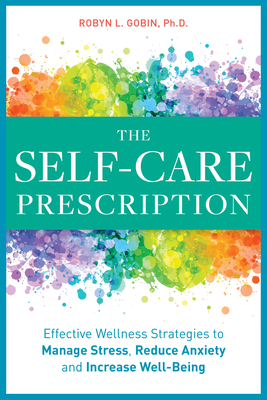 $14.99

Not On Our Shelves Now (Usually Ships in 1-5 Days)
Description
---
Improve your well-being every day with solutions-based, self-care strategies that work.
Picture your best life: Where would you work? What would your social calendar look like? What personal interests would you be exploring? This book is your prescription to turn those visions into a reality—with proven self care strategies for every area of your life.
The Self Care Prescription
empowers you to find balance and purpose in your relationships, work, and life. From creating a plan to spend more time with family and friends, to zeroing-in on a career that you can feel good about, the book will help you create a personalized self care plan. You'll also learn actionable techniques to fight anxiety, demotivation, or whatever else is holding you back from building the life you want to live.
The Self Care Prescription
includes:
Self care 101—Learn what "self care" really means, and how you can start practicing it every day.
A full-spectrum plan—Bring self care to the physical, spiritual, emotional, intellectual, vocational, and social areas of your life.
Best-life strategies—Unwind with mindfulness breathing practices or start eating right with healthy meal planning—you'll find tons of actionable self care techniques to help you reach your goals.
Be the friend you want to be to yourself and others. Be engaged with what you do. Whatever self care means to you, you'll find your own personal practice in this book.
About the Author
---
ROBYN L. GOBIN, PHD, is a licensed clinical psychologist, mindfulness instructor, speaker, researcher, and university professor. Robyn is dedicated to helping others improve their lives by taking charge of their thoughts and embracing their worth. In her free time, Robyn enjoys snuggling on the couch with her family for movie night, reading for spiritual nourishment, and trying new recipes.
Praise For…
---
"The Self-Care Prescription takes a smart, systematic, scientifically based approach to self-care, showing you how to enrich your life no matter what your circumstances may be. It offers a careful exploration of your needs and wishes, provides a host of creative new possibilities and choices, and gives gentle instructions for arranging your life in a way that is more in alignment with who you really are. Highly recommended!"—Christopher Germer, PhD, author of The Mindful Path to Self-Compassion, co-author of Teaching the Mindful Self-Compassion Program

"The Self-Care Prescription: Powerful Solutions to Manage Stress, Reduce Anxiety and Increase Well-Being by Robyn Gobin, PhD, encourages you to use positive visualization to make empowering changes in your personal life and in the time you devote to your job. By taking charge of how you spend each day and learning to write your own self-care 'prescription,' you will find your own path to health and happiness."—Virginia Campbell

"Although it focuses on self-care, The Self-Care Prescription is really a comprehensive guide to creating a full, vibrant, and healthy life. The book is structured so that each reader can create a personalized self-care plan, choosing the areas of life that matter most to them. I highly recommend this book to anyone who is ready to invest even a little bit of time and energy in themselves, and would like a supportive guide along the way."—Melissa Platt, PhD

"The Self-Care Prescription is a timely, practical, and much-needed resource for anyone who is feeling drained, overwhelmed, or anxious. Dr. Gobin provides practical steps anyone can take to better nourish their mind, body, and spirit. Her writing is refreshing, action-oriented, and compassionate, as she lays out a roadmap to move us out of the stress zone and into more empowered lives."—Thema Bryant-Davis, PhD, author of Thriving in the Wake of Trauma: A Multicultural Guide

"Self-care is one of the most important, yet often most neglected, tasks that we must embrace in order to live our richest, fullest, and healthiest lives. In The Self-Care Prescription, Robyn Gobin clearly explains why self-care is critical, the costs of neglecting self-care, and most importantly, how you can take better care of yourself physically, spiritually, emotionally, vocationally, intellectually, and socially. With a kind, warm, and compassionate tone, Robyn takes care of you as you learn to take better care of yourself. I will be recommending and gifting this much-needed book to family, friends and clients alike."—Aisling Leonard-Curtin, MS, chartered psychologist with the Psychological Society of Ireland & co-author of The Power of Small: Making Tiny but Powerful Changes When Everything Feels Too Much

"The Self-Care Prescription is the ideal self-help book for learning to live a life full of growth and engagement. From social self-care to spiritual self-care to emotional self-care, Robyn Gobin provides a practical, easy-to-digest guide to relating to yourself in healthier, kinder ways. The book has thoughtful exercises, bringing to life the most personally relevant aspects of self-care. Dr. Gobin includes wonderful activities and inspiring, heartfelt messages to help readers find balance and a sense of purpose. This book will inspire people to engage in the practice of self-care and live a more connected, loving life."—Robyn D. Walser, Ph.D., author of The Mindful Couple: How Acceptance and Mindfulness Can Lead to the Love You Want, and Learning ACT II: An Acceptance and Commitment Therapy Skills Training Manual for Therapists