Tracks Along the Left Coast: Jaime de Angulo & Pacific Coast Culture (Paperback)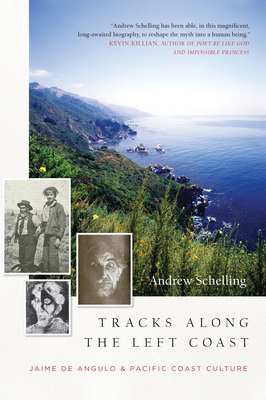 Description
---
"Tracks Along the Left Coast more than accomplishes its self–appointed task of celebrating de Angulo's legacy." —Rain Taxi

"Schelling's biography of Jaime de Angulo—'cattle puncher, medical doctor, bohemian, buckeroo,' among other things—presents a fascinating, full–bodied portrait of a man and an era, as well as delving deep into California's Native history. De Angulo's isn't a household name, but in Schelling's work the man called by Ezra Pound the 'American Ovid' comes blazing to life in all his singular brilliance." —Stephen Sparks, Literary Hub

California, with its scores of native languages, contains a wealth of old–time stories—a bedrock of the literature of North America. Jaime de Angulo's linguistic and ethnographic work, his writings, as well as the legends that cloak the Old Coyote himself, vividly reflect the particulars of the Pacific Coast. In each retelling, through each storyteller, stories are continually revivified, and that is precisely what Andrew Schelling has done in Tracks Along the Left Coast, weaving together the story of de Angulo's life with the story of the land and the people, languages, and cultures with whom it is so closely tied.
About the Author
---
Andrew Schelling is a poet, essay writer, and translator. He works on land–use issues in the American West and teaches poetry and Sanskrit at Naropa University in Boulder, Colorado.

Jaime de Angulo was a cowboy, cattle rancher, horse tamer, medical doctor, psychologist, and linguist. A friend and colleague of Carl Jung, Henry Miller, and D. H. Lawrence, de Angulo was the author of Indian Tales and many other titles, all published posthumously.
Praise For…
---
Praise for Tracks Along the Left Coast

"Tracks Along the Left Coast more than accomplishes its self–appointed task of celebrating de Angulo's legacy." —Rain Taxi

"Schelling's biography of Jaime de Angulo—'cattle puncher, medical doctor, bohemian, buckeroo,' among other things—presents a fascinating, full–bodied portrait of a man and an era, as well as delving deep into California's Native history. De Angulo's isn't a household name, but in Schelling's work the man called by Ezra Pound the 'American Ovid' comes blazing to life in all his singular brilliance." —Stephen Sparks, Literary Hub

"Jaime de Angulo! If you could corral into one volume all the legends he inspired, you would already have given us a book worth reading, but poet Andrew Schelling has been able, in this magnificent, long–awaited biography, to reshape the myth into a human being. In a larger frame, Tracks Along the Left Coast illustrates something of the troubling ease with which Modernism, hand in hand with the new science of anthropology, fixed and adapted what it imagined as 'the Primitive.' As his personal evanescence flickered and burned through the decades, de Angulo shot direction into the skies; we see why generations of Western poets, musicians, and artists were drawn to him, beyond that brilliant intellect. Through California foothills his horse galloped him, naked but for a jockstrap: if you blinked you would miss him." —Kevin Killian, author of Poet Be Like God and Impossible Princess