Milk Soaps: 35 Skin-Nourishing Recipes for Making Milk-Enriched Soaps, from Goat to Almond (Spiral bound)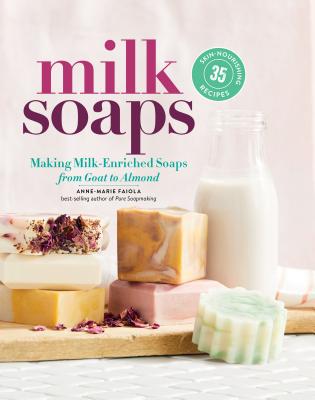 $21.95

Not On Our Shelves Now (Usually Ships in 1-5 Days)
Description
---
Handmade soap is made extra-special with the addition of milk! Soaps enriched with milk are creamier than those made with water, and milk's natural oils provide skin-renewing moisture and nourishment. In Milk Soaps, expert soapmaker Anne-Marie Faiola, author of Pure Soapmaking and Soap Crafting, demystifies the process with step-by-step techniques and 35 recipes for making soaps that are both beautiful and useful. She explains the keys to success in using a wide range of milk types, including cow, goat, and even camel milk, along with nut and grain milks such as almond, coconut, hemp, rice, and more. Photographs show soapmakers of all levels how to achieve a variety of distinctive color and shape effects, including funnels, swirls, layers, and insets. For beginners and experts alike, this focused guide to making milk-enriched soaps offers an opportunity to expand their soapmaking skills in new and exciting ways. 
About the Author
---
Anne-Marie Faiola is the author of Milk Soaps, Pure Soapmaking, and Soap Crafting. She is the owner of Bramble Berry, a company that sells soapmaking supplies at brambleberry.com, and offers soapmaking advice and inspiration through her blog and on her YouTube channel, Soap Queen TV. The recipient of several small business awards, Faiola was named a Best Boss in America by Fortune Small Business, and is a member of the Coalition of Handcrafted Entrepreneurs (COHE). She can be found online at anne-mariefaiola.com.
Praise For…
---
"I love how easy to follow instructions are paired with a picture for each step in every single recipe.  Reading Milk Soaps makes me feel like I'm actually sitting in a soapmaking classroom, watching every step of the process.  With plenty of recipes from beginner to advanced, I'll be referring back to it for many years to come." — Ashley Adamant, founder of Practical Self Reliance

 "Milk Soaps is an indispensable reference for every natural artisan soapmaker, from novice to professional. This awe-inspiring guide has 266 pages of step-by-step tutorials and some of the most innovative skin-nourishing recipes I've ever seen! My favorites are the Exfoliating Lemon Bars with Coconut Milk and the Calendula-Infused Buttermilk Bars. Be prepared to get inspired. — Britanie Faith, Influencer and founder of BeautybyBritanie.com 

"Anne-Marie Faiola will always be the reigning Soap Queen in my book—no one teaches soapmaking better or more thoroughly than she does. Anne-Marie's love for sharing her passionate love affair with soapmaking comes through in every word of her new book, Milk Soaps. The detailed explanations, gorgeous soap photos, and luxurious recipes make me want to stop what I am doing to go make milk soap right now. Even after twenty years of making soap I cannot resist the inspiration found within the pages of Milk Soaps. You need this book in your collection — whether you are a beginner or an expert soapmaker." — Kayla Fioravanti, author of The Art, Science and Business of Aromatherapy and The Unspoken Truth About Essential Oils

"Milk Soaps is more than a "how to" soapmaking book. It's a motivational magazine-style manual for everyone who loves to create. Whether you are new to soapmaking, or you've been at it for a while, the techniques and artistry revealed within these pages will immediately inspire you to action. Not only will you learn how just about every kind of milk (yes, even breast milk!) imaginable performs in soap, you'll also discover how to incorporate it properly to create a perfect bar every time. Easy to follow "beginner," "intermediate," and "advanced" sections make it easy for you to quickly choose a recipe and get started right away. With Anne-Marie as your guide, not only will you make awesome soap, but you'll be inspired to enlarge the creativity quotient in all aspects of your life. Buy this book now!" —Donna Maria, founder and CEO, IndieBusinessNetwork.com and DonnaMaria.com.