The Story Pirates Present: Stuck in the Stone Age (Hardcover)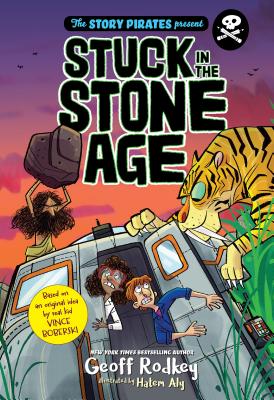 Other Books in Series
This is book number 1 in the Story Pirates series.
Description
---
Cavemen! A saber-toothed tiger! And . . . a Rockball tournament? This laugh-out-loud time-travel adventure (inspired by a real kid's idea) doubles as a creative writing guide for young writers!

Tom Edison (no, not that Tom Edison) is a hopeful janitor who dreams of becoming a scientist--and Dr. Morice is a shy scientist who dreams of making friends. When an accident at the lab sends them back in time to the stone age, Tom and Dr. Morice must work together to face down cavemen, saber-tooth tigers, and other B.C. hazards, with only one problem: Tom isn't very good at science, and Dr. Morice isn't very good with people.

"Changing kids' lives, one story at a time" is the motto of the Story Pirates, a group of performers who bring kids' writing to life through sketch comedy. Stuck in the Stone Age is an action-packed adventure based on an idea from a real kid! Teaming up with New York Times bestselling author, Geoff Rodkey, the Story Pirates present this hilarious story, which doubles as an introduction to the basics of creative writing. With the help of Story Pirate Captain Vincent Rolo and the Story Creation Zone, readers can use this novel as inspiration to create their OWN great adventure!
About the Author
---
The Story Pirates are a nationally respected media and education organization founded in 2004 to celebrate the words, ideas, and stories of young people. Their motto: "Changing kids' lives, one story at a time." They've been featured on NBC Nightly News, TODAY, and Sesame Street, and are endorsed by Jon Stewart, Conan O'Brien, John Oliver, and more.

Geoff Rodkey is the New York Times bestselling writer of the Tapper Twins and Chronicles of Egg books, as well as the hit films Daddy Day Care and RV. He lives and works in New York City. Visit him at geoffrodkey.com.

Hatem Aly is an Egyptian-born illustrator whose work has been featured on television and in multiple publications worldwide. He currently lives in New Brunswick, Canada, with his wife, son, and more pets than people. Find him online at metahatem.com or @metahatem.

Vince Boberski writes short stories and funny songs, plays saxophone in his school band, and likes to play basketball, and his favorite Grizzlies player is Mike Conley. He lives in Memphis, Tennessee, with his mom and dad, a little sister who sometimes gets on his nerves, and two dogs named Daisy and Lucy who don't.
Praise For…
---
"Funny, and entertaining....A must for young writers...and a fab, fun writing manual for writing teachers everywhere." --Kirkus Reviews, **STARRED REVIEW**

"Jam-packed with both writing advice and jokes... this two-for-one tale is as smart as it is entertaining." -- Publishers Weekly, **STARRED REVIEW**

"What an amazing read, full of bizarre kid logic and fun, and brought to life with the usual care & empathy that the Story Pirates always show to young writers!
-- Patton Oswalt, Emmy and Grammy award winning actor and stand-up comedian

"Do you want to laugh? Or get yanked into a nonstop, page-turning adventure? Or be inspired to write your own story? Or maybe you want to eat a double stack cheeseburger with onion rings? Okay, if it's any of the first three, then this is the bookfor you. If it's the last one—sorry, we can't help you there."
-- Adam Gidwitz, best-selling author of A Tale Dark and Grimm and the Newbery Honor-winning The Inquisitor's Tale

"So zany and imaginative, it's no surprise an actual kid inspired it. You'll laugh a lot—and learn a lot, too."
-- Tim Federle, author of Better Nate Than Ever