Dark, Salt, Clear: The Life of a Fishing Town (Hardcover)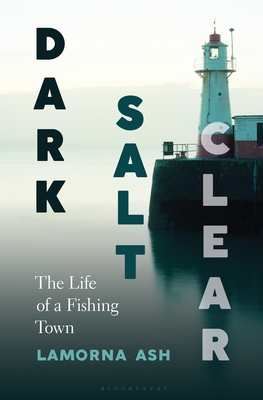 Staff Reviews
---
Dark, Salt, Clear: The Life of A Fishing Town is an amazing work of narrative nonfiction that is much more than just a portrait of a Cornish fishing town. Taking its name from the Elizabeth Bishop poem "At the Fishhouses," Dark, Salt, Clear is a beautiful blend of history, literary criticism, and nature writing that explores the meaning of belonging and authenticity. Ash's true gift is her ability to completely immerse you--from the decks of a fishing boat, to the local pub, to the windswept cliffs. This is a journey you won't want to end.
— Emily
Description
---
From an adventurous and discerning new voice reminiscent of Robert Macfarlane, a captivating portrait of a community eking out its living in a coastal landscape as stark and storied as it is beautiful.

Before arriving in Newlyn, a Cornish fishing village at the end of the railway line, Lamorna Ash was told that no fisherman would want a girl joining an expedition. Weeks later, the only female on board a trawler called the Filadelfia, she is heading out to sea with the dome of the sky above and the black waves below.

Newlyn is a town of dramatic cliffs, crashing tides, and hardcore career fishermen-complex and difficult heroes who slowly open up to Ash about their lives and frustrations, first in the condensed space of the boat, and then in the rough pubs ashore. Determined to know the community on its own terms, Ash lodges in a spare room by the harbor and lets the village wash over her in all of its clamoring unruliness, thumping machinery, and tangled nets-its history, dialect, and centuries-old industry.

Moving between Ash's surprising, transformational journey aboard the Filadelfia and her astute observations of Newlyn's landscape and people, Dark, Salt, Clear is an assured work of indelible characters and a multilayered travelogue through a landscape both lovely and merciless. Ash's adventurous glint, her delicate observations, and her willingness to get under the skin of a place call to mind the work of Annie Dillard, Barry Lopez, and Robert Macfarlane. This is an evocative journey and a fiercely auspicious debut.
About the Author
---
Lamorna Ash is an education worker and a freelance writer for the Times Literary Supplement and TANK magazine. She has a degree in English from Oxford and a master's in social and cultural anthropology from the University College London. She has written numerous plays that have toured Edinburgh, Oxford, and London. She can gut most kinds of fish, quite slowly. Dark, Salt, Clear is her first book. She lives in London.
Praise For…
---
"Dark, Salt, Clear is an extraordinary debut, a deeply researched and deeply felt work of narrative nonfiction. It is the kind of book that ziplines readers to a different world. You'll feel the damp sea air and smell the fish and ale in this vivid, multifaceted portrait of a hardworking, hard-drinking town and its salty residents, intimately connected to one another and to every aspect of its sea-to-market fishing industry. Ms. Ash explores questions about work, life and community and in so doing reflects on her own choices. On top of everything else, this book charts the author's own passage to maturity as she re-evaluates what matters to her." - Wall Street Journal

"I love this town and I love this book-both are imbued with the unadorned lessons of hard earned lives." —Mark Kurlansky, New York Times bestselling author of Cod, Salt, and Paper

"A gripping and affecting debut . . . Ash's remarkably empathetic take on a small town and its outsized contribution to the fishing industry is one to savor." —Publishers Weekly (starred review)

"An engaging book debut . . . Ash deftly weaves her own reflections with those of many other writers, including W.G. Sebald, Elizabeth Bishop, Walter Benjamin, Virginia Woolf, Simone Weil, and Barry Lopez, as she considers the indelible connection of identity to geography. A graceful, lovely homage to people and place." —Kirkus Reviews (starred review)

"Lamorna Ash is a beautiful prose stylist-precise, perceptive, humane and sensitive-who somehow manages to write in a way that is both earthy and poetic. Her debut book-full of fish and blood and salt and oilskins-marks the birth of a new star of non-fiction." —William Dalrymple, author of THE ANARCHY

"With the heart of a novelist and the clarity of an ethnographer, Lamorna Ash reveals the Cornish fishing community of Newlyn in all its tension and hardship and wild joy. Dark, Salt, Clear is a book of deep immersion and a stunning debut from a brilliant writer." —Philip Marsden, author of RISING GROUND

"Ash writes with a maturity and wisdom that betrays her years and which took me to the very heart of Newlyn while questioning my sense of belonging. She opens up this traditional fishing town to reveal a close knit community struggling to stay afloat. Dark Salt, Clear is a captivating homage." —Lara Maiklem, author of MUDLARK

"Like some luminous fish risen from the deep, Dark Salt Clear bewitches with its radiance and intricacy. I can think of few other books in which such conscientious reporting maps onto a genuine love of place and history. Lamorna Ash is a revelation." —Rebecca Giggs, author of FATHOMS

"Compassionate realism illuminates this account of a working-class seaside village in England. . . Dark, Salt, Clear is above all a meditation on place, class, and generational identity . . . A sense of fierce belonging seems to exude from [Newlyn's residents] like fog from the sea. It's a feeling that calls to the author, as well." - Washington Independent Review of Books