Ulysses: An Illustrated Edition (Hardcover)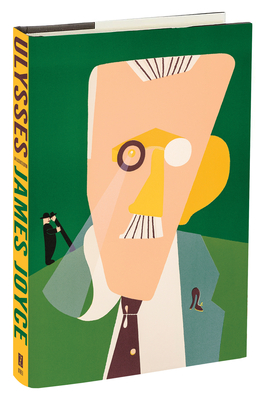 Description
---
This strikingly illustrated edition presents Joyce's epic novel in a new, more accessible light, while showcasing the incredible talent of a leading Spanish artist.
 
The neo-figurative artist Eduardo Arroyo (1937–2018), regarded today as one of the greatest Spanish painters of his generation, dreamed of illustrating James Joyce's Ulysses. Although he began work on the project in 1989, it was never published during his lifetime: Stephen James Joyce, Joyce's grandson and the infamously protective executor of his estate, refused to allow it, arguing that his grandfather would never have wanted the novel illustrated. In fact, a limited run appeared in 1935 with lithographs by Henri Matisse, which reportedly infuriated Joyce when he realized that Matisse, not having actually read the book, had merely depicted scenes from Homer's Odyssey.

Now available for the first time in English, this unique edition of the classic novel features three hundred images created by Arroyo—vibrant, eclectic drawings, paintings, and collages that reflect and amplify the energy of Joyce's writing.
About the Author
---
James Joyce, born in Dublin in 1882, is one of the most influential authors of the twentieth century. His most well-known publications include Dubliners, A Portrait of the Artist as a Young Man, Ulysses, and Finnegans Wake. He died in Zurich in 1941.
 
Eduardo Arroyo, born in Madrid in 1937, was a painter, graphic artist, author, and set designer. In 1982 he received Spain's National Award for Plastic Arts. His paintings are showcased at the Museo de Arte Contemporáneo in Madrid. He died in 2018.
Praise For…
---
"A new edition of Ulysses is presenting the work under a fresh light…Just as Joyce used an array of styles to write Ulysses, Arroyo deployed a range of techniques to represent the author's characters as they meander through Dublin…vivid." —New York Times
 
"Enchanting." —The New Yorker
 
"Arroyo's playful, colorful works share a palette with the Pop Art prevalent in the 1960s…The effect—of richness within simplicity—suits Ulysses." —Los Angeles Times
 
"Ulysses is an infinitely pleasing book. One of the great mistakes about it is that it is somehow too difficult or inaccessible. It is neither. These brilliant illustrations by Eduardo Arroyo celebrate the book in the most profound way, and work as an accompaniment to one of the greatest works of the human imagination that history has ever produced." —Colum McCann, National Book Award–winning author of Let the Great World Spin
 
"A gloriously illustrated edition…a handsome, coffee-table-style book that bears eloquent testimony to the inexhaustible capacity of Ulysses to inspire others." —Irish Examiner
 
"Wonderful…The dreamy surrealist images [Arroyo] presents to us on the page add a colorful third-dimension quality to Joyce's novel. They also provide a much-needed bit of breathing space for the reader to occasionally pause and ponder." —The Independent (Ireland)
 
"Madness is, of course, part of the appeal of [Ulysses]. A new edition…splendidly adorns the gibberish." —New Criterion
 
"Hundreds of full-color illustrations by the late Spanish painter Arroyo distinguish and enrich this hefty…new edition." —Publishers Weekly
 
"Elegant…vibrant." —Hyperallergic
 
"Aside from being one of the most important Spanish painters of the last fifty years, Eduardo Arroyo has also been a devoted reader and a magnificent writer…[Ulysses is] without a doubt his most ambitious book project." —El País

"A very special edition of Leopold Bloom's adventures."—La Razón