Genghis Chan on Drums (Paperback)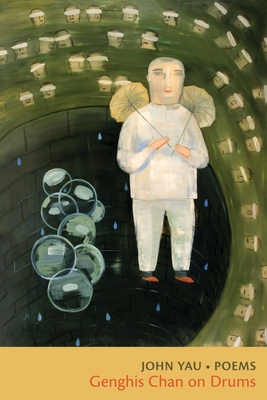 Description
---
A diverse and cacophonous poetry collection tackling subjects from identity to current events.
 
At once comic and cantankerous, tender and discomfiting, piercing and irreverent, Genghis Chan on Drums is a shape-shifting book of percussive poems dealing with aging, identity, PC culture, and stereotypes about being Chinese. Employing various forms, John Yau's poems traverse a range of subjects, including the 1930s Hollywood actress Carole Lombard, the Latin poet Catullus, the fantastical Renaissance painter Piero di Cosimo's imaginary sister, and a nameless gumshoe. Yau moves effortlessly from using the rhyme scheme of a sixteenth-century Edmund Spenser sonnet to riffing on a well-known poem-rant by the English poet Sean Bonney, and to immersing himself in the words of condolence sent by a former president to the survivors of a school massacre. Yau's poems are conduits through which many different, conflicting, and unsavory voices strive to be heard.
 
About the Author
---
John Yau is a poet, art critic, fiction writer, and publisher whose recent books include Foreign Sounds or Sounds Foreign and Bijoux in the Dark. He founded Black Square Editions and cofounded the online magazine Hyperallergic Weekend. He has received awards and fellowships from the John Simon Guggenheim Memorial Foundation, National Endowment of the Arts, and Academy of American Poets, among others. He teaches at Mason Gross School of the Arts at Rutgers University and lives in New York.
 
Praise For…
---
"Yau's latest brilliant (after Bijou in the Dark) brims with social critique and the linguistic play for which the poet is known, while also being suggestive of a writer and artist eager to situate his multifaceted work in the context of a collapsing society. . . . Self-aware yet self-effacing, these necessary poems testify to the power of language to transform reality."
— Starred review

"Yau considers history, poets of the past, aging, personal and political identity, mass shootings, and stereotypes of Chinese citizens in poems that address various crises of the times."
— Top 10 Poetry Books for Fall 2021

"Even knowing that John Yau is a prolific and adventurous poet, one can't begin to anticipate the work in Genghis Chan on Drums... This poet-scholar... has gifted us with a lot to ponder."
— On the Seawall

"Once again Yau delivers a spectacularly tantalizing book of poems, recent and relevant to exigencies and booby traps of the times: PC culture, identity politics. A poet's aging body as he's turning 69, and other twilight musings, razor sharp curmudgeonry, meditations on Gumshoes, Piero di Cosimo's Sister, Carole Lombard, the language of Philosophers. All masterfully pulled off with sleight of hand, deft language, gleeful irreverence. As devil's advocate, Yau mercilessly torques all the cliches about being Chinese, in the 'O Pin Yin' series. . . . Each section of this generous book has a particular intensity of shape-shifting personae. Surreal prose poems sit comfortably with 'A Painters' Thought,' an especially winning section from a poet who has written expertly, profusely on art. Two pieces movingly invoke artist Tom Nozkowski, close friend who passed in 2019. . . . Genghis Chan on Drums arrives on time with a drumming shout-out for the human comedy, a perfect antidote for the enormity of our world's woes. Yet Yau also has the heart of a humble Taoist philosopher as when 'we become our own destiny: military sardines side-by-side sliding together in the dark.'"
— Anne Waldman, author of Sanctuary: (Addenda)

"By turns gorgeous, hilarious, and enraged, this astonishing collection takes the reader on a mineshaft-deep descent past the nuanced multiform measures of racism I am humiliated to admit I had never before fathomed. Then, in short poems suggesting the richness of dreamt novels, Yau discloses his enormous inner life in a virtuosic redeployment of language that blooms on each passing page, in wave upon wave of buoyant wonders, in mischievous self-cancelling miracles of speech, until we reach the depths of English I never thought possible. This is a beautiful book in which I finally found my feeble self. It understands me and I want to stay here forever!"
— Guy Maddin

"It's hard to overstate the profound influence that Yau's poetry has on my work, and on so many other poets and artists across generations. I've followed his sometime OG alter-ego Genghis Chan across many decades, many books, and it's glorious to see him finally slouch into the spotlight for this long-awaited extended solo—a mashup of speed metal plus free improv plus paigu with the occasional brassy rimshot. But in this latest book, the propulsive beat of war-drums underlies even the vaudeville, the exquisite, the slyly cantankerous. Yau's shots have real targets, real firepower, even when his targets hold his own consciousness hostage. From a collage of other people's stereotypes, myths, and dissimulations, these poems emerge with breathtaking clarity and gut-wrenching force. Perhaps Yau's most powerful book to date, this is essential reading."
— Monica Youn, author of Blackacre: Poems