We Are in Charge of Our Bodies (We Say What's Okay) (Hardcover)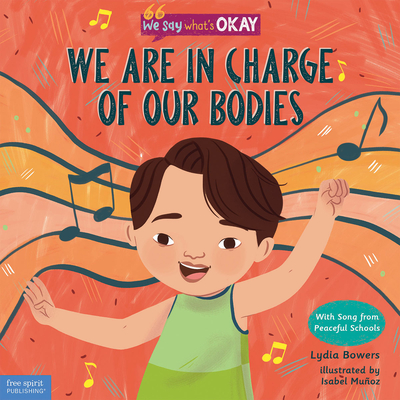 $15.99

Not On Our Shelves Now (Usually Ships in 1-5 Days)
Description
---
Support young children as they learn the importance of setting physical boundaries.

Being in charge of one's body is a key foundation of consent. We Are in Charge of Our Bodies builds children's social and emotional skills and helps with setting physical boundaries.
 
The sixth book in the We Say What's Okay series, We Are in Charge of Our Bodies follows Jackson and his classmates as they learn the names for their private body parts, that they can say what's okay for their bodies, and why it's important to respect others' bodies. Using the book as a read-aloud, educators and families can model language to help children as they learn how to set and respect physical boundaries. The author, who hosts workshops and trainings on teaching boundaries and consent for families and early childhood educators around the country, offers additional activities in the back of the book.
 
We Are in Charge of Our Bodies includes an introduction to adult readers about the book's topic. Digital content features a letter to share with teachers and families and a song from Peaceful Schools with downloadable audio files and sheet music.

We Say What's Okay Series
Centered around a class of preschoolers, this series helps teach young children the social and emotional skills they need to understand the complexities of consent. Each book covers a consent theme, such as how to recognize the physical sensations that emotions create, look for body language cues, ask for and listen to choices, and know that our bodies have value. With believable, everyday situations and diverse characters, children can see themselves and others reflected in each story—and develop a vocabulary to communicate consent and feelings. Every book in the series is accompanied by its own song from Peaceful Schools with downloadable audio files and sheet music.
About the Author
---
Lydia Bowers is a speaker, consultant, and trainer who happily exists in the Venn diagram overlap between early childhood and sex education.
After spending almost two decades working directly with children as a classroom teacher and a parent, she is passionate about reframing sexuality conversations. Lydia now teaches families and educators how to talk to children about subjects like gender, reproduction, and abuse. When she's not traveling around the country for conferences and speaking engagements, she lives in Cincinnati with her husband and two children and adds to her growing collection of children's book character tattoos as often as she can.
Follow her on TikTok @lydiatalksconsent.
Isabel Muñoz's dream was to paint for a living, and now she's proud to be the illustrator of several children's books.
She works from a tiny and colorful studio in the north of Spain.
Praise For…
---
"As a mother and a pediatrician, I am deeply grateful for this book. Lydia Bowers is an expert in demystifying the human body, personal boundaries, and consent for all ages. This book navigates the space of body positivity, body parts, bodily autonomy, and consent with expert grace, clarity, nuance, and honesty. It is not enough to hope our kids stay safe; these concepts taught at a young age are protective and preventative. It is my hope that this book would be in every space where children live and learn."
— Heather M. Relyea Ashley, MD, FACP, Pediatrics & Internal Medicine, Birmingham, Alabama