Flight of the Diamond Smugglers: A Tale of Pigeons, Obsession, and Greed Along Coastal South Africa (Hardcover)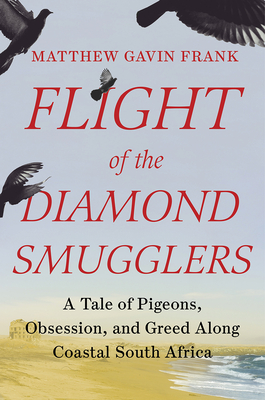 Description
---
NPR • Best Books of 2021 "Unforgettable. . . . An outstanding adventure in its lyrical, utterly compelling, and heartbreaking investigations of the world of diamond smuggling." —Aimee Nezhukumatathil
For nearly eighty years, a huge portion of coastal South Africa was closed off to the public. With many of its pits now deemed "overmined" and abandoned, American journalist Matthew Gavin Frank sets out across the infamous Diamond Coast to investigate an illicit trade that supplies a global market. Immediately, he became intrigued by the ingenious methods used in facilitating smuggling particularly, the illegal act of sneaking carrier pigeons onto mine property, affixing diamonds to their feet, and sending them into the air.
Entering Die Sperrgebiet ("The Forbidden Zone") is like entering an eerie ghost town, but Frank is surprised by the number of people willing—even eager—to talk with him. Soon he meets Msizi, a young diamond digger, and his pigeon, Bartholomew, who helps him steal diamonds. It's a deadly game: pigeons are shot on sight by mine security, and Msizi knows of smugglers who have disappeared because of their crimes. For this, Msizi blames "Mr. Lester," an evil tall-tale figure of mythic proportions.
From the mining towns of Alexander Bay and Port Nolloth, through the "halfway" desert, to Kleinzee's shores littered with shipwrecks, Frank investigates a long overlooked story. Weaving interviews with local diamond miners who raise pigeons in secret with harrowing anecdotes from former heads of security, environmental managers, and vigilante pigeon hunters, Frank reveals how these feathered bandits became outlaws in every mining town.
Interwoven throughout this obsessive quest are epic legends in which pigeons and diamonds intersect, such as that of Krishna's famed diamond Koh-i-Noor, the Mountain of Light, and that of the Cherokee serpent Uktena. In these strange connections, where truth forever tangles with the lore of centuries past, Frank is able to contextualize the personal grief that sent him, with his wife Louisa in the passenger seat, on this enlightening journey across parched lands.
Blending elements of reportage, memoir, and incantation, Flight of the Diamond Smugglers is a rare and remarkable portrait of exploitation and greed in one of the most dangerous areas of coastal South Africa. With his sovereign prose and insatiable curiosity, Matthew Gavin Frank "reminds us that the world is a place of wonder if only we look" (Toby Muse).
About the Author
---
Matthew Gavin Frank is the author of Preparing the Ghost and The Mad Feast. He teaches creative writing and lives in Marquette, Michigan.
Praise For…
---
Intriguing.... With great eloquence, Matthew Gavin Frank weaves his personal losses into a riveting cultural tapestry. If Flight of the Diamond Smugglers induces justified discomfort about the dirty business of diamonds, it also rewards with a panoramic view of an ancient and mysterious trade.

— Martha Anne Toll - NPR

[A] rumination on brutality and resistance in the mines of South Africa. . . . The material in general — ghost towns, corporate cruelty, the centuries-old relationship between humans and a species almost magical in its abilities — is fabulous.
— Nate Blakeslee - New York Times Book Review

Unexpected connections abound in Frank's lyrical work . . . . [he] blends investigative journalism, historical research and rhapsodically written memoir to examine mankind's relentless exploitation of the Earth and all its creatures, including the humans themselves. . . . In refusing to romanticize the landscape or the piracy that takes place upon it, Frank's book suggests that perhaps what diamonds are forever really means is that so is avarice. But maybe so, too, is 'the magic of the pigeons.
— Kathleen Rooney - Minneapolis Star Tribune

The humble pigeon gains a sense of grandeur as the author evokes a plethora of classical, mythical, and scientific accounts to paint a fascinating portrait of this commonplace species.... An attempt to capture and remember the collective tragedies and horror of the diamond mining industry.... Frank captures the Orwellian atmosphere.... examin[ing] the helplessness of the people who are trapped in this quagmire where hierarchies of race and class push them into making perilous decisions.
— Shweta Kumari - The Mantle

A perfect combination of memoir and investigative reporting.... a page-turning tale of suspense.
— Corné van Zyl - The South African

A work of strange beauty born of personal tragedy.... An often unsettling, thoroughly researched, poetically expressed mélange of memoir, historical analysis and philosophical meditation.... The narrative's path is not linear; instead, Frank follows the flow of his prodigious curiosity.... Frank observes... with a sharp yet sympathetic eye.... Suspense builds as the pages turn.... there's much to marvel at, from the far-reaching aftermath of diamond mining to the ways old memories have a hold on us. Readers will empathize with Frank's efforts to process his grief and with Diamond Coast residents' search for glints of hope in a grim desert. Through it all, pigeons soar in the sky and alight on the ground, offering companionship, a particular set of skills and thought-provoking fodder for metaphor.
— Linda M. Castellitto, Bookpage, starred review

Equal parts memoir and investigative reporting.... A page-turning tale of suspense.... With novelistic writing, Frank masterfully weaves a fast-paced history of South Africa's Diamond Coast, and the impact of De Beers controlling both the land and the government. His thorough reporting on mineworkers, their pigeons, and towns that have struggled in the wake of mine closures makes for compelling reading. The author excels in allowing people to speak for themselves, adding personal touches to a history of greed and trauma.... Frank writes a fascinating story of grief and history that will draw readers in from the first page. Must-read narrative nonfiction.
— Stephanie Sendaula, Library Journal, starred review

[T]he author [Frank] creates an intriguing and unusual blend of genres. Here he mixes natural history with anthropology and a twist of true crime in a tale of small-scale theft.
— Kirkus Reviews

For too long, the lowly pigeon has been seen as an urban nuisance, undeserving of our attention, and too common to be seen in a magical or heroic light. Matthew Gavin Frank's compelling investigation into the bird's unexpected role in the diamond trade is here to change that: Flight of the Diamond Smugglers is a lyrical portrait of a resilient species caught in the grinding gears of a cruel industry of extraction and exploitation.

— Kirk Wallace Johnson, author of The Feather Thief: Beauty, Obsession, and the Natural History Heist of the Century

From the depths of diamond pits where miners toil for starvation wages, to the skies above the South African coast where pigeons glide, Matthew Gavin Frank's riveting exposé casts light on a little-known world that ensnares humans and animals alike in the pitiless pursuit of treasure and profit.
— Lauren Redniss, author of Oak Flat: A Fight for Sacred Land in the American West

A beautifully written book on diamond smuggling, the universe, life and much of what lies in between. . . . Throughout it all, this book reminds us that the world is a place of wonder if only we look.
— Toby Muse, author of Kilo: Inside the Cocaine Cartels—from the Jungles to the Streets

Hard-bitten and starkly poetic. Matthew Gavin Frank digs deep into South Africa's brutal mining territories and strikes unlikely signs of life. The most precious gems in this story are, unexpectedly, flesh and feathers. An incredibly raw, personal, and original tale.
— Noah Strycker, author of Birding Without Borders: An Obsession, a Quest, and the Biggest Year in the World

This book is a rare gem indeed, smartly researched by someone with a big heart and a beautiful mind.
— Aimee Nezhukumatathil, author of World of Wonders: In Praise of Fireflies, Whale Sharks, and Other Astonishment