How To Be a Tudor: A Dawn-to-Dusk Guide to Tudor Life (Paperback)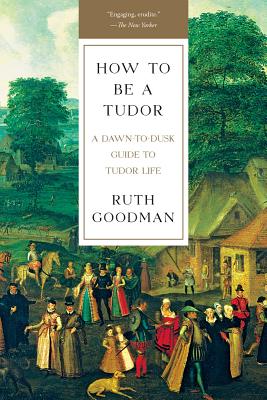 Staff Reviews
---
Ruth Goodman is such a joy! Her ability to bring history to life is truly unmatched. In her work you will not find an endless list of dates and names and places, but instead an immersive dive into the day-to-day lives of ordinary people. As I read this book I couldn't help but stop every few pages to tell my partner about a new interesting fact I'd just learned (did you know that folks who woke up at dawn instead of first light were called slugabeds? I didn't!) Follow her on a journey into Tudor England and you will not regret it. -Emily — From Emily's Favorites
Description
---
Named one of the Best Books of the Year by NPR

A New York Times Book Review Editors Choice Selection
An erudite romp through the intimate details of life in Tudor England, "Goodman's latest…is a revelation" (New York Times Book Review).
On the heels of her triumphant How to Be a Victorian, Ruth Goodman travels even further back in English history to the era closest to her heart, the dramatic period from the crowning of Henry VII to the death of Elizabeth I. A celebrated master of British social and domestic history, Ruth Goodman draws on her own adventures living in re-created Tudor conditions to serve as our intrepid guide to sixteenth-century living. Proceeding from daybreak to bedtime, this "immersive, engrossing" (Slate) work pays tribute to the lives of those who labored through the era. From using soot from candle wax as toothpaste to malting grain for homemade ale, from the gruesome sport of bear-baiting to cuckolding and cross-dressing—the madcap habits and revealing intimacies of life in the time of Shakespeare are vividly rendered for the insatiably curious.
About the Author
---
Ruth Goodman is the author of multiple books including How to Be a Victorian. An historian of British life, she has presented a number of BBC television series, including Tudor Monastery Farm. She lives in the United Kingdom.
Praise For…
---
Immersive, engrossing…a reminder that while we believe we see the past from a detached, enlightened perspective, our view is often blinkered, and so is our notion of what constitutes human needs and nature.… The revelatory truth behind the sumptuous gowns and palaces of Wolf Hall isn't how badly those kings and princesses smelled but just how hard everyone else was working in the rest of their world.

— Laura Miller - Salon

[Goodman's] enthusiasm is exhilarating and contagious.
— Kate Tuttle - Boston Globe

[How to Be a Tudor] presents a vivid, fascinating era of British history and reminds us that we're never as far from the past as we like to think.

— Genevieve Valentine - NPR.org

Goodman's latest foray into immersive history is a revelation…This fascinating book shows us commoners at their patriotic Sunday afternoon archery practice and Henry VIII playing tennis in a crimson satin doublet, with evening prayers for all. It's the next best thing to being there.
— Sarah Ferguson - New York Times Book Review

Ruth is the queen of living history, long may she reign!
— Lucy Worsley, author of The Art of the English Murder

A deeply researched and endlessly fascinating account of what it was like to live as a Tudor. The narrative is rich in period detail and based upon a thorough review of the contemporary sources, but what makes it unique is the fact that Goodman has put it all into practice—sleeping, eating, washing and dressing like a Tudor. As a result, How To Be a Tudor is one of very few books which can justifiably claim to bring every aspect of this enduringly popular period dazzlingly to life.

— Tracy Borman, author of Thomas Cromwell