Warden Force: Night Rider and Other True Game Warden Adventures: Episodes 1-13 (Hardcover)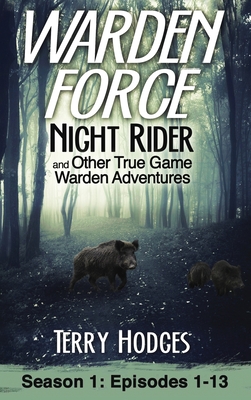 $24.95

Not On Our Shelves Now (Usually Ships in 1-5 Days)
Description
---
A collection of 13 award-winning short stories concerning the true adventures of California Fish and Game Wardens and the wildlife-destroying outlaws they pursue. These stories illustrate the wide variety of wildlife-related problems wardens face in California, which has a greater diversity of wildlife and wildlife habitat than any other state and is second only to Alaska in its vast expanses of wilderness.
Book 1 contains the first 13 episodes:
1. The Midnight Ride of Bonnie and Clyde: Wardens tangle with a murderous mother-and-son poaching team.
2. Night Rider: A California warden pursues highly dangerous night-poachers of wild pigs.
3. Decisions: Wardens off the coast of Southern California's Catalina Island risk their lives to save the crew of a sinking commercial squid-fishing boat.
4. A Second Second Chance: A California game warden ambushes outlaw catfish fishermen using baby swallows for bait.
5. The Collectors: California wardens take on a nest of Nazi-worshiping, weapons-collecting, deer poaching outlaws.
6. Nothin' Personal: California wardens track down a thief who steals the head and antlers of another hunter's buck.
7. Bottom Feeders: California wardens go after a band of White-trash, sturgeon-poaching, hillbillies with attitudes.
8. An Outing with Team Taylor: A California game warden and his family, on a short vacation, team up to capture antelope, bear and steelhead poachers.
9. Rookie: A rookie California game warden gets his first taste of his hazardous new career.
10. Grand Trickery: A California warden employs a magnificent bluff to catch outlaws night-poaching deer.
11. Tough Luck on the Little Sur: California wardens pursue gaunch-hook steelhead poachers.
12. Serial Poacher: Wardens pursue a disturbing and dangerous lone-wolf deer poacher.
13. The Vision: A boy's fondest dream comes true.
It surprises many who read my stories to learn of the great diversity of challenges faced by California's Fish and Game wardens. This is probably due to the general misconception of many as to the true nature of this state, the perception that California is mainly urban when in fact the reverse is true. In truth, California has more natural diversity of wildlife and wildlife habitat than any other state and is second only to Alaska in its vast expanses of wilderness.
Readers are also surprised to discover how hazardous my profession can be. Out of necessity, wardens work alone much of the time, often at night, with absolutely no hope for timely backup should things go wrong. And things go wrong, somewhere in the state, with distressing regularity. The dangers of this work are best illustrated by rather grim FBI statistics which clearly show that game wardens and conservation officers in this country are at greater risk of being assaulted or killed in the line of duty than are most sheriff's deputies and police officers.