Barrier to the Bays: The Islands of the Coastal Bend and Their Pass (Gulf Coast Books, sponsored by Texas A&M University-Corpus Christi #35) (Hardcover)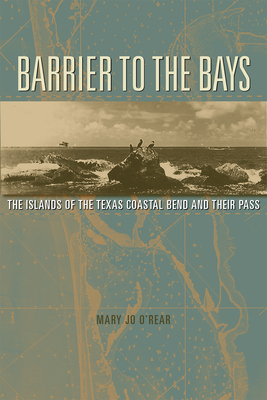 Other Books in Series
This is book number 35 in the Gulf Coast Books, sponsored by Texas A&M University-Corpus Christi series.
Description
---
Mary Jo O'Rear rounds out her coastal bend trilogy with a deep and engaging look at the prehistory and history of the Texas barrier islands. In Barrier to the Bays, O'Rear captures the deep time of the islands (Mustang, Padre, and San José), the bays (Aransas, Corpus Christi, Copano, Redfish, and Nueces), and Aransas Pass. From the earliest human settlements to the twentieth century, O'Rear explores the complex interplay between people and economies struggling to survive in a region dominated by indifferent forces of nature.
Barrier to the Bays opens with the natural formation and development of the barrier isles and the arrival of Native Americans, Spanish castaways, French explorers, and Catholic missionaries. European settlements on the mainland eventually led to rich commercial development of the area and its bounty as ranching, fishing, and transportation took hold. By the early twentieth century, the people of the Coastal Bend began wrestling with a new drive to create deep-water harbors along the coastline in the face of the ever-present hurricane threat. O'Rear shows that by World War II the region had settled into a kind of "practicality" as tourists and traders took their place among the denizens of the islands and bays.
In addition to the stories of familiar historical figures, Barrier to the Bays stresses the importance of technology in the settlement and development of the region. "Nothing could have been achieved among the barriers and bays of the Coastal Bend without the right tools." O'Rear underscores the importance of properly designed sailing vessels and the centrality of navigation technology as an integral part of the barrier isle story.
About the Author
---
MARY JO O'REAR is the author of Bulwark against the Bay: The People of Corpus Christi and Their Seawall and Storm over the Bay: The People of Corpus Christi and Their Port, a finalist for the 2010 Most Significant Scholarly Book Award, presented by the Texas Institute of Letters.
Praise For…
---
"Mary Jo O'Rear's new book is a broad-ranging, lively, efficient account of the barrier islands along the Texas Coastal Bend near Corpus Christi. The research is stunning, even better than in her two first-rate volumes on the Port of Corpus Christi and the Corpus Christi Seawall, and her writing deftly paints pictures of the places and peoples and events she is describing."—Alan Lessoff, author of Where Texas Meets the Sea: Corpus Christi and its History
— Alan Lessoff

"Once again, O'Rear highlights the under-researched areas of South Texas. She mines through primary documents and maps, and then analyzes her findings, making her book the only serious work which examines the islands and the barriers to the bays."— Cecilia Gutierrez Venable, author of Historic Photos of Corpus Christi and Remembering Corpus Christi
— Cecilia Gutierrez Venable