Storm over the Bay: The People of Corpus Christi and Their Port (Gulf Coast Books, sponsored by Texas A&M University-Corpus Christi #16) (Paperback)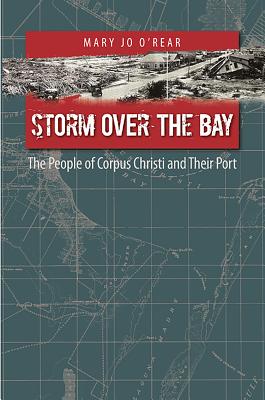 Other Books in Series
This is book number 16 in the Gulf Coast Books, sponsored by Texas A&M University-Corpus Christi series.
Description
---
Since the late 1830s, the natural harbor at the mouth of South Texas' Nueces River has been a center of regional maritime trade. But by the early 1900s, a storm of political wrangling, cronyism, and corruption was threatening to scuttle the city's efforts toward securing a dependable deep water port to attract international commerce to Corpus Christi. On September 14, 1919, a massive hurricane struck the bay, burying the downtown area under ten feet of debris and killing as many as one thousand people. The storm left millions of dollars of damage in its wake. The citizens of Corpus Christi, rather than being demoralized, however, were galvanized by the disaster. In gripping detail, author Mary Jo O'Rear chronicles the successful efforts of the newly unified Corpus Christi—efforts that culminated in the dedication of the Port of Corpus Christi on September 14, 1926, seven years to the day after the storm that devastated the city. Storm over the Bay will appeal to readers interested in regional history, politics, and economics. It is a must-read for anyone who appreciates Corpus Christi and its colorful past.
About the Author
---
MARY JO O'REAR has served in regional and local history groups and as adjunct history professor at Del Mar College in Corpus Christi and Texas A&M University–Kingsville. She is also a former instructor in history, economics, and geography for the Corpus Christi Independent School District.
Praise For…
---

 " . . . . a welcome, engaging, and up-to-date account of Corpus Christi's struggle to achieve a deep water port. With fascinating vignettes of participants, Mary Jo O'Rear reveals behind-the-scenes political maneuvering that brought together supporters and sometimes antagonists, who ultimately achieved the long-sought goal of a deep water seaport for South Texas."—James C. Maroney, professor of history, Lee College





 " . . . . provides a realistic, and delightful, close-up of Corpus Christi's important place in . . . . the Gulf Coast."—Charles W. Macune Jr., professor of history, California State University–Northridge