Bulwark Against the Bay: The People of Corpus Christi and Their Seawall (Gulf Coast Books, sponsored by Texas A&M University-Corpus Christi #30) (Hardcover)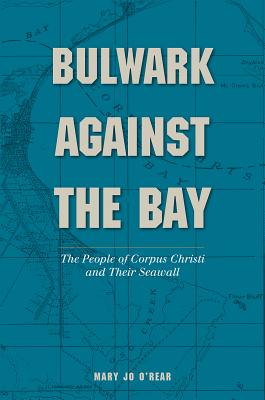 Other Books in Series
This is book number 30 in the Gulf Coast Books, sponsored by Texas A&M University-Corpus Christi series.
Description
---
After a devastating hurricane in 1919, the people of Corpus Christi faced the stark reality of their vulnerability. It was clear that something had to be done, but the mere will to take precautionary measures did not necessarily lead the way. Instead, two decades would pass before an effective solution was in place. Mary Jo O'Rear, author of Storm over the Bay, returns to tell the story of a city's long and often frustrating path to protecting itself.

Bulwark Against the Bay reveals the struggle to construct a seawall was not merely an engineering challenge; it was also bound up with the growing popularity of the Ku Klux Klan, local aversion to Roman Catholicism, the emergence of the League of United Latin American Citizens, new efforts on behalf of African American equality, the impact of the Great Depression, support for Franklin Roosevelt, and reactions to the New Deal.

A case study of a community wrestling with itself even as it races with the clock, Bulwark Against the Bay adds to our understanding of urban history, boardroom and backroom politics, and the often harsh realities of geography and climate.
About the Author
---
MARY JO O'REAR has served in regional and local history groups and as adjunct history professor at Del Mar College in Corpus Christi and Texas A&M University–Kingsville. She is also a former instructor in history, economics, and geography for the Corpus Christi Independent School District. She is a fellow of the East Texas Historical Association.
Praise For…
---
"Mary Jo O'Rear provides much appreciated background to one of the best known and most significant works of urban civil engineering in Texas. This book will continue the project of a number of recent historians of bringing Corpus Christi more firmly into the story of modern and urban Texas. O'Rear's primary research is truly innovative. No one has looked in such detail at such a variety of sources for post-1919 Corpus Christi before.?" — Alan Lessoff, author of Where Texas Meets the Sea: Corpus Christi and Its History 
— Alan Lessoff
"The book draws in the reader with tales of intrigue and the sometimes duplicitous behavior of politicians, citizens, and even an artist, Gutzon Borglum, who was brought in to help design a seawall in the 1920s. 
Bulwark Against the Bay
will provide interesting, and enriching reading for urban historians and Texas historians as well as the general reading public. 
Residents of the city will enjoy reading the story of the city's development in the early twentieth century.  O'Rear deftly interweaves stories about the Ku Klux Klan, the religious and political tensions, and personality clashes that fueled the city's development."  — Anthony Quiroz, Professor of History, Texas A&M University
— Anthony Quiroz
"Almost on a daily basis we travel past major public works without giving thought to what it took to accomplish such impressive improvements to the natural environment.  In Corpus Christi, known along the Texas Gulf coast as the "Sparkling City by the Sea," one of the most significant of these projects is its pre-WW II downtown seawall.  It took decades of tragic events, including the loss of hundreds of lives in an unnamed 1919 hurricane, local as well as national political maneuvering, creative funding and deal making, and just plain hard work on the part of countless unsung heroes to get this structure built.  From concept to concrete, Mary Jo O'Rear's
Bulwark Against the Bay
captures the story of this historic storm protection system and the men and women associated with its design and construction, which helped transform a burgeoning coastal town into a modern city.  This book is a must-read if you're interested in the tale of the less-than-straight and many times bumpy path the Corpus Christi seawall took before the vision to build it became a reality." W. Allan Hayes, P.E. Past President, Nueces County Historical Society
— W. Allan Hayes
"
Bulwark Against the Bay
has something for everyone. A fascinating engineering story, it also charts the passions of city life and Texas politics when Democrats ruled. It reads like a political thriller at times, while being a rigorously-researched history" —
Galveston County Daily News
— Galveston County Daily News