The Intimate Bond: How Animals Shaped Human History (Paperback)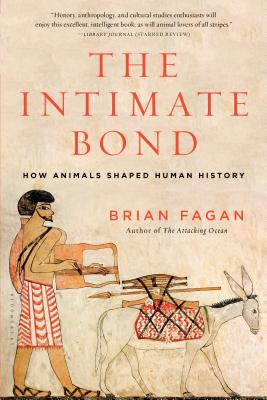 Description
---
New York Times bestselling author of The Attacking Ocean Brian Fagan shows how the powerful bond between Homo sapiens and other species has shaped our civilization and our character.

From the first wolf to find companionship in our prehistoric ancestors' camp, to the beasts who bore the weight of our early empires, to the whole spectrum of brutally exploited or absurdly pampered pets of our industrial age, animals--and our ever-changing relationship with them--have left an indelible mark on the history of our species and continue to shape its future.

Through an in-depth analysis of six truly transformative human-animal relationships, Fagan shows how our habits and our very way of life were considerably and irreversibly altered by our intimate bond with animals. Among other stories, Fagan explores how herding changed human behavior; how the humble donkey helped launch the process of globalization; and how the horse carried a hearty band of nomads across the world and toppled the emperor of China.

With characteristic care and penetrating insight, Fagan reveals the profound influence that animals have exercised on human history and how, in fact, they often drove it.
About the Author
---
Brian Fagan was born in England and spent several years doing fieldwork in Africa. He is Emeritus Professor of Anthropology at the University of California, Santa Barbara. He is the author of New York Times bestseller The Great Warming and many other books, including Fish on Friday: Feasting, Fasting, and the Discovery of the New World, and several books on climate history, including The Little Ice Age and The Long Summer.
Praise For…
---
"Fagan (Emeritus, Anthropology/Univ. of California, Santa Barbara; The Attacking Ocean: The Past, Present, and Future of Rising Sea Levels, 2013, etc.) brings consummate skill to this frequently horrifying study of humanity's interaction with animals . . . His analysis, however, is sound, the product of an accomplished archaeological and anthropological background. Though reminding us of the cruelties still visited upon animals and insisting that we respect them anew--not merely as pets or idealized creatures of the wild--Fagan offers no resolutions to our conflicting attitudes toward them, but his compelling, cohesive book calls for further enlightenment." —starred review, "Best Books of 2015", Kirkus

"The result of Fagan's exhaustive research is thought provoking and at times heartrending. The author skillfully traces the arc of human-animal relationships from ancient partners in survival to the master-servant dynamic we still see today despite the efforts of animal-rights activists . . . History, anthropology, and cultural studies enthusiasts will enjoy this excellent, intelligent book, as will animal lovers of all stripes." —starred review, Library Journal

"Engaging . . . A fascinating history, told with attention to detail and to curious milestones that brighten the story, which, being a history of humankind's relationship with animals, is a broad history of humankind." —San Francisco Book Review

"In The Intimate Bond: How Animals Shaped Human History, Brian Fagan shares the fascinating stories of the most transformative of those relationships. Long before FedEx, it as the unassuming donkey that brought about globalization, delivering food, luxuries and commodities to a developing world--although overnight delivery was probably out of the question." —Santa Barbara News Press

"Through stories spanning all of recorded history, anthropologist and popular-science writer Fagan skillfully recounts how many civilization-advancing innovations before the Industrial Revolution involved human management of animals." —Booklist