Our Sustainable Table: Essays (Paperback)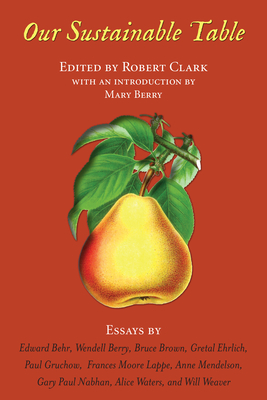 Description
---
In this collection of thirteen provocative essays, Wendell Berry discusses the pleasures of eating. Gretel Ehrlich describes her struggle to produce clean, lean beef on her ranch in Wyoming. Frances Moore Lappe sets for her vision of a system that is environmentally, economically, and culturally sustainable. Wes Jackson condemns the shortsighted bottom line goals of modern agribusiness. Alice Waters recounts the early days of her famous Bay Area restaurant's painstaking pursuit of a supply chain of reliably good ingredients, and Gary Nabhan discusses food, health and Native American agriculture. They are joined by Bruce Brown, Edward Behr, Paul Gruchow, Mark Kramer, Anne Mendelson and Will Weaver.

In this remarkable collection, these essays link a decline in the quality of food with a historical deterioration of the quality of American farm life, while making it clear that "food that tastes good and is good for you is not just a private indulgence but a force for sustaining families and communities."

First published by The Journal of Gastronomy, it is a pleasure to see this seminal, groundbreaking anthology back into print, now with a new introduction by Mary Berry, founding directory of the Berry Center.
About the Author
---
Robert Clark's first book, The Solace of Food: A Life of James Beard, which received full page reviews and/or cover treatment in the New York Times Book Review, Washington Post, and San Francisco Chronicle and also won the Julia Child IAACP award. His other non-fiction books include River of the West, a chronicle of the Columbia River, and My Grandfather's House, a memoir that was named a finalist for the Los Angeles Times Book Award in biography.

Clark is the author of four novels: In the Deep Midwinter; Lives of the Artists; Love Among the Ruins, a double BookSense 76 pick in both hardcover and paper; and Mr. White's Confession, which won the Edgar Award for Best Novel as well as the PNBA Award. Clark lives in Seattle.