The Oyster War: The True Story of a Small Farm, Big Politics, and the Future of Wilderness in America (Paperback)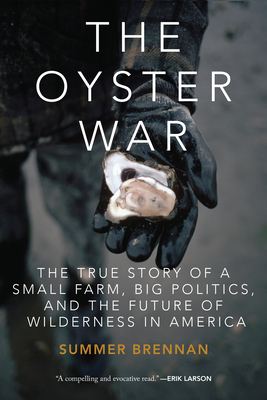 Description
---
It all began simply enough. In 1976 the Point Reyes Wilderness Act granted the highest protection in America to more than 33,000 acres of California forest, grassland and shoreline – including Drakes Estero, an estuary of stunning beauty. Inside was a small, family–run oyster farm first established in the 1930s. A local rancher bought the business in 2005, renaming it The Drakes Bay Oyster Company. When the National Park Service informed him that the 40–year lease would not be renewed past 2012, he vowed to keep the farm in business even if it meant taking his fight all the way to the Supreme Court.

Environmentalists, national politicians, scientists, and the Department of the Interior all joined a protracted battle for the estuary that had the power to influence the future of wilderness for decades to come. Were the oyster farmers environmental criminals, or victims of government fraud? Fought against a backdrop of fear of government corruption and the looming specter of climate change, the battle struck a national nerve, pitting nature against agriculture and science against politics, as it sought to determine who belonged and who didn't belong, and what it means to be wild.
About the Author
---
Summer Brennan was born to parents living in a houseboat on the San Francisco Bay. She has written for magazines and newspapers all over the country and works regularly with the United Nations Press Office in New York covering issues related to decolonization, disarmament, human rights and the environment. As an undergraduate at Bennington she studied with Mary Oliver. Later she took her masters from NYU in journalism and the Middle East. The Oyster War is her first book. Learn more at theoysterwar.com.
Praise For…
---
"Every story is freighted with backstory, with multiple and intersecting histories. The great value of Brennan's book, even if it gets, as she writes, only "as close to the truth as I could reasonably be expected to come," is her deeply probing effort to understand and craft as full and complex an account as possible."—Los Angeles Review of Books

"in Brennan's hands, it's also a pleasure to vicariously relive the oyster war. Brennan's narrative skills are marked by a relaxed pace, diligent reporting and a scrupulous but fun dive into backstory with ample historical and scientific pigmentation....Brennan is a natural storyteller who makes a tough tale — that many locals and visitors winced through and tiptoed around — into a narrative celebration of the striking landscape of the Point Reyes Peninsula, and the spirit behind the oyster war itself."—San Francisco Chronicle

"In The Oyster War, Brennan writes with clarity and grace about an environmental conflict centered on an oyster farm in one of the most beautiful preserves in America, the Point Reyes National Seashore in Northern California, as the forces of history, culture, and politics converge to decide the farm's fate. Her saga raises the question: How far can one go to return a land to 'wilderness,' when throughout its history it supported all manner of human endeavor? It's a compelling and evocative read for anyone who, like me, shares Brennan's belief that this territory is, in fact, 'a little bit magic.'"—Erik Larson, New York Times bestselling author of Devil in the White City and Dead Wake

"Brennan is a lyrical and lovely writer." —Reason Magazine

"An absorbing account of the clash between environmentalists and oyster farmers in the coastal towns north of San Francisco. . . [Brennan] confronts the ambiguities of the conflicting arguments and motives of the key players . . . Well–written and superbly reported."—Kirkus Starred Review

"Brennan ably documents and contextualizes decades of history"—Publishers Weekly

"In a lyrical narrative Brennan explores a legal case with potential implications for the future of wilderness legislation and administration for decades to come, presenting a complex matter with thorough and deliberate care." —Publishers Weekly Spring 2015 Announcements

"This book invites the reader to consider the oyster in an entirely new way. More than a delicacy best enjoyed with Champagne, the prized bivalve is metaphor for the intersection of environment and commerce. The Oyster War is a must read for anyone who cares about the poetry and politics of the plate. It's a local story that asks questions with national implications: when commerce and the environment meet, what does it mean to protect something wild?"—Anne Zimmerman, author of An Extravagant Hunger: The Passionate Years of M.F.K. Fisher

"Like the northern California fog she perfectly evokes, Brennan weaves her way around the tricky terrain of what wilderness means today. The Oyster War is a smart, page–turning account of what happens when a cultural landscape is imagined as something potentially pristine. Her superb research, local's vibe, balanced view, and ability to summon the magic that is Point Reyes, make The Oyster War vital reading for everyone interested in the future of U.S. environmentalism." —Amanda Adams Hinde, author of A Mermaid's Tale and Ladies of the Field

"In these times of crucial need to protect both wild places and working landscapes supporting real people, difficult decisions must be made about who gets to stay and who must go. But we quickly find ourselves in a hall of mirrors. This is a devoutly honest book whose author recognizes that sometimes the closest we can get to truth is a matter of opinion. Her self–questioning integrity is a compass that can help us all steer a wiser course when we find ourselves in a tangle and the right direction is not easy to discern." —Carl Safina, author of Beyond Words; What Animals Think and Feel