The Ayurvedic Self-Care Handbook: Holistic Healing Rituals for Every Day and Season (Paperback)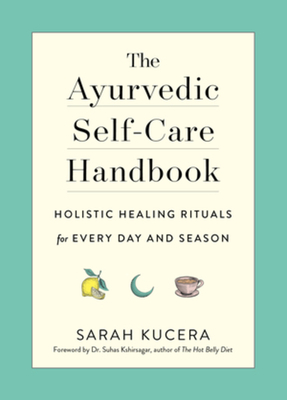 Description
---
Ancient self-care for modern life, by the author of the forthcoming The Seven Ways of Ayurveda
Feeling burned-out, unmotivated, or stuck?
The Ayurvedic Self-Care Handbook
is here to help. This authoritative guide to ancient healing offers more than 100 daily and seasonal Ayurvedic rituals—each taking 10 minutes or less—to reconnect you with nature's rhythms, and to unlock better health, as you:
Boost and stabilize your energy with yogic breathing
Overcome transitions with grounding meditations
Undo physical and emotional stress with personalized yoga postures
Prevent and treat disease with nourishing tonics and teas
Pause and reflect with daily and weekly journaling prompts.
Get back in sync with nature—and rediscover your potential to feel good.
About the Author
---
Sarah Kucera,DC, CAP, has been championing healthy practices professionally for over a decade, and personally for her whole life. A licensed chiropractor, certified Ayurvedic practitioner, registered yoga teacher and yoga therapist, and entrepreneur, she is the founder of Sage, a healing arts center and herbal apothecary in Kansas City, Missouri, where she combines these methods to help others find well-being.

Dr. Suhas Kshirsagar, BAMS, MD (Ayurveda), is a world-renowned educator, the director of the Ayurvedic Healing and Integrative Wellness Clinic, and author of The Hot Belly Diet.
Praise For…
---
A 2019 Nautilus Silver Award Winner, Body, Mind, Spirit Practices

"Kucera shows readers how to incorporate principles of Ayurvedic philosophy into their lives in this welcoming, persuasive debut. . . . Those interested in natural, easy-to-follow solutions for daily health concerns will find much helpful advice here."—Publishers Weekly

"Dr. Kucera guides us in the practical application of rituals in the healing process of balancing the bodily humors and their circadian rhythms in our day-to-day lives. Applied in one's life, we can celebrate our lives through daily, seasonal, and healing rituals thereby bringing more awareness in every aspect of our lives. A joyful, blissful book, it serves as a guideline to students and practitioners, unfolding inner healing and longevity."—Dr. Vasant Lad, BAMS, MASc, Ayurvedic physician, author of Ayurveda: The Science of Self-Healing, the Textbook of Ayurveda series, and more

"Sarah Kucera is a person of abundant healing talent and uncanny insight into the human being. She has authored an important book that we in the industrial, stressed-out world need now more than ever. I highly recommend it."—Max Strom, speaker, teacher, and author of A Life Worth Breathing and There Is No App for Happiness

"Sarah Kucera's The Ayurvedic Self-Care Handbook is a powerful and engaging overview of Ayurvedic practices. Not only does she share this healing approach in a brand-new way, but she makes it easy to implement it into your every day. If you are seeking a simple, effective, and gentle way to incorporate the wisdom of Ayurveda into your life, this book is the key."—Amy B. Scher, bestselling author of How to Heal Yourself from Anxiety When No One Else Can and This Is How I Save My Life

"A wonderful book to upgrade your self-care rituals for more Ayurvedic magic in your life."—Sahara Rose Ketabi, best-selling author of Eat Feel Fresh and Idiot's Guide to Ayurveda

"Sarah's expertise as a healer, both an Ayurvedic practitioner and a chiropractor, is abundantly evident in The Ayurvedic Self-Care Handbook, but what really shines through are her gifts as a teacher. This is the most accessible, logical and practical, yet never reductive, book on Ayurveda I've ever read. It is now required reading for our Yoga Teacher Training programs!"—Gina Caputo, Founder Director of the Colorado School of Yoga

"Sarah is a fresh, much-needed voice for Ayurvedic techniques for healing and balancing. The Ayurvedic Self-Care Handbook is an incredible manual for anyone who is ready to feel more in balance, energized, and radiant while still showing up for everything that's on their (full) plate. I can't wait to share this with the women I work with."—Cassandra Bodzak, author of Eat With Intention

"In our culture where our traditions and rituals have been forgotten, The Ayurvedic Self-Care Handbook reminds us that our health, longevity, and happiness depend on our traditional circadian rituals."—Dr. John Douillard, DC, CAP author of The 3-Season Diet, founder of LifeSpa.com